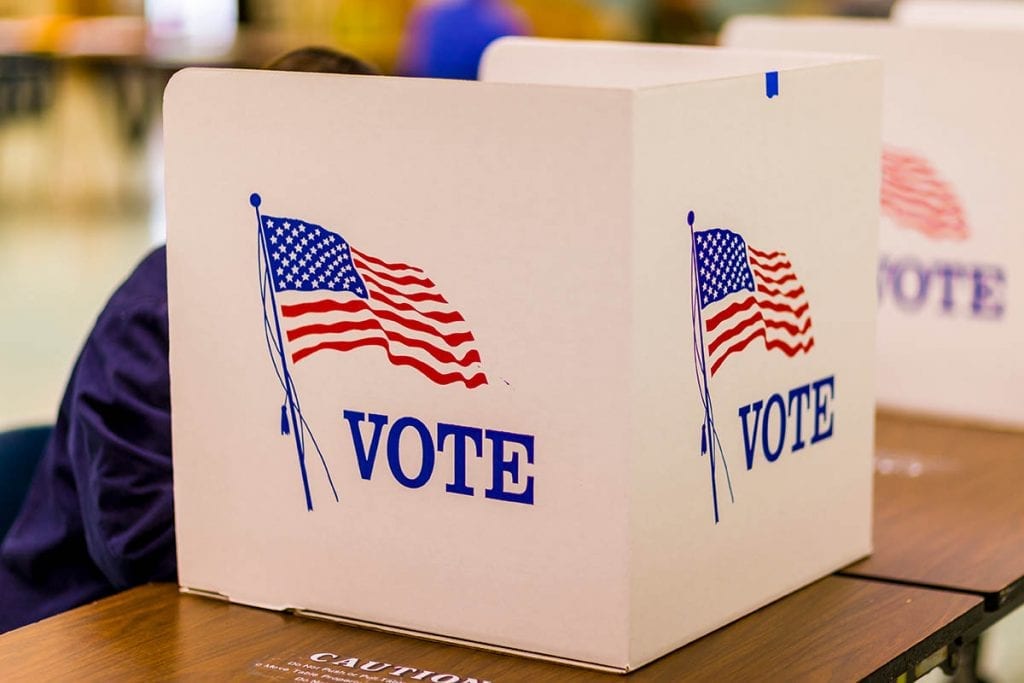 As a board member for the Maryland Recycling Network and a state representative, Andrew Cassilly sits in a unique position when it comes to crafting legislation.
"I can throw it out there for industry professionals and say 'What do you think of this? If you don't like it, we won't push for it,'" he said. "They have a front line conduit, if you will, to the legislative body, and I get kind of a backseat tour of the inner workings of the recycling industry."
He'll enjoy the position for at least the next four years, after voters last week re-elected him to another term in the Maryland House of Delegates.
Cassilly was one of the recycling industry professionals who celebrated on election night. A number of others from the industry fell short of their bids for public office, however.
Resource Recycling in early October took a look at a number of recycling industry stakeholders running for seats in local and state offices this fall. The following is a summary of how they fared in last week's election, as well as a look at a few successful ballot measures.
Wagner's bid fails
In Pennsylvania's race for governor, Scott Wagner, founder and owner of garbage and recycling company PennWaste, fell short of beating Democratic incumbent Thomas Wolf. Wagner, a Republican, received 41 percent of the votes, compared with Wolf's 58 percent.
County-by-county maps show Wolf dominated in the major urban areas of Philadelphia and Pittsburgh, as well as around the capital, Harrisburg, while Wagner drew solid support from rural areas. In York County, where PennWaste is headquartered, Wagner got 54 percent of votes.
President Trump had endorsed Wagner, and former President Obama endorsed Wolf. It wasn't a friendly campaign. Wagner told Wolf that, in the race, he was "going to stomp all over your face with golf spikes," while Wolf called Wagner "unhinged and unfit for office," according to CNN. Wagner's company also became a campaign issue: An outside group paid for billboards blasting Wagner for his company suing customers who fail to pay their service bills, according to the York Daily Record.
Earlier this year, Wagner resigned from his seat in the Pennsylvania State Senate to vie for the state's top executive position.
Mixed news for state and local candidates
First elected to the Maryland House of Delegates in 2014, Cassilly won re-election to his district, which includes smaller cities and rural areas northeast of Baltimore. He and fellow Republican Teresa Reilly defeated the Democratic challenger for two open seats in the district.
"I feel very honored that I have the rare opportunity to not only be in the industry, but how often do you get to say 'I'm going to go down to Annapolis and put in a bill'?" he told Resource Recycling.
When he's not in Annapolis, the capital, or at Maryland Recycling Network meetings, Cassilly oversees resource conservation and utilities for Hartford County, Md. Public Schools. In that role, he supports everything from alternative energy to recycling, composting and buying recycled products.
He's able to bring recycling and composting expertise that's often lacking in legislative bodies, said Cassilly, who sits on the chamber's 27-member environment and transportation committee. "When recycling comes up, they all look at me, which is kinda scary," he said, laughing. "It's amazing what they don't know."
Other recycling industry professionals also celebrated wins on Tuesday night.
Former Indiana Recycling Coalition head Carey Hamilton, a Democrat who was running for re-election to her state House of Representatives seat, beat her challenger with 62 percent of the vote.
In a race for a Petoskey, Mich. City Council seat, Lindsey Walker decisively defeated her opponent. Walker, who works for Emmet County's recycling department and was interviewed by Resource Recycling before the election, garnered nearly 70 percent of the vote. She beat incumbent Jeremy Wills, who has served in public office in the city for decades, including two stints as mayor. The News-Review newspaper called the results "a somewhat surprising turn of events."
Others had rough nights.
Michael Patton, who has a long history with recycling in the city of Tulsa, Okla., was running for a seat on the Tulsa City Council. He fell short of winning, pulling in 23 percent of votes in the crowded, seven-way race (the winner received 27 percent).
In Missouri City, Texas, Angie Wierzbicki, who helped push for the launch of citywide curbside recycling service, fell short in her bid for a City Council seat. Despite an endorsement from former President Obama, Democrat Laura Liegois, former solid waste manager for Muscatine, Iowa, fell short in her bid for a seat in the Iowa House of Representatives, drawing 46 percent of the vote. And Democrat Richard Ireland, chairman of the Plainville, Conn. recycling and solid waste commission and a board member for the Connecticut Recyclers Coalition, received only 34 percent of the vote in his race for a seat in the Connecticut House of Representatives, losing to the incumbent.
Ballot questions – answered
In Michigan, a recycling industry professional's advocacy led to the creation of a statewide redistricting commission.
Katie Rogala Fahey worked for the Michigan Recycling Coalition before she left to lead the Voters Not Politicians campaign, which backed a ballot measure to create a redistricting commission. The goal is to take the redrawing of legislative and congressional district maps out of the hands of elected politicians.
Voters strongly supported the measure, with 61 percent in favor. At an election night party in Detroit, Fahey said "the thing we proved tonight is that we are our own saviors. We the people can save ourselves," Mlive.com reported.
Several recycling-related questions were answered on the local level.
In Summit County, Colo., voters OK'd a property tax increase to provide $1.7 million a year to fund recycling programs and a host of other public services. More than 61 percent of voters supported the measure. CBS4 news reported the money will be used to increase mattress recycling, in particular.
In Chicago Heights, Ill., voters were asked whether the city should establish an optional recycling program in which homeowners pay to participate and the city provides recycling containers. They liked the idea, voting 58 percent in favor.
In the town of Killingly, Conn., voters considered whether elected leaders should pursue creating a town-wide garbage and recycling collection service. In answer to the non-binding question, 57 percent of them said "yes." They may get another bite at the apple: A city leader previously told The Bulletin newspaper that if there was "overwhelming interest," then city leaders would craft a binding referendum on the issue to be voted on later.
In at least one case, a service contract itself was on the ballot. In tiny Kaneville Township in Illinois, voters gave the local government authority to sign a collection, disposal, composting and recycling contract.
Photo credit: Rob Crandall/Shutterstock

More stories about EPR/stewardship