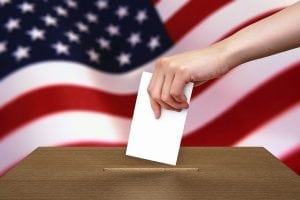 Decades ago, Michael Patton was among the first activists to push for recycling in Tulsa, Okla.  A self-described "green gospel person," he preached recycling and environmentalism to various groups and civic leaders.
It taught him that if you stick to a good message, while finding ways to make it fresh for different audiences, you can get movement.
"Those are all excellent training for politics – you really are selling ideas," he said recently. The connection started coming into focus four weeks ago, when he formally declared his candidacy for a position on the Tulsa City Council.
Patton is one of a number of recycling industry professionals who are running for office this fall. While much of the nation's focus has been on national races and control of Congress, recycling professionals are seeking to influence their communities at the local and state levels.
With five weeks until election day, Resource Recycling is taking a look at a few of the candidates for public office around the U.S.
High-profile statewide battles
The highest-profile race is Scott Wagner's bid for governor of Pennsylvania. Wagner founded and owns PennWaste, a residential and commercial garbage and recycling company in south-central Pennsylvania. The company's 96,000-square-foot MRF in York, Pa. has been a leader in sorting equipment installations, recently adding optical sorters and a recyclables-sorting robot to help keep pace with changing streams and markets.
Wagner is no stranger to politics. The Republican became the first-ever write-in candidate to win a seat in the Pennsylvania state Senate. He served in the Senate from 2014 until June 2018, when he resigned after winning the Republican nomination for governor during the state's May 15 primary.
On Nov. 6, Wagner will face Democratic incumbent Gov. Tom Wolf, who entered the office after defeating the state's GOP governor in 2014. In many ways, the two men's positions are polar opposites, and their campaign have traded sharp barbs lately. The York Daily Record published an extensive list of resources with information on them. On Oct. 1, the men participated in a debate moderated by "Jeopardy" game show host Alex Trebek.
National politics have also influenced that race. The paper noted that President Trump endorsed Wagner, while former President Obama stumped for Wolf at a rally.
Wagner's campaign staff did not respond to a Resource Recycling request for an interview with the candidate.
Another person tied to the recycling industry is engaged in a high-profile statewide battle, but her name won't appear on the ballot.
Katie Rogala Fahey was an employee at the Michigan Recycling Coalition before she left to pursue full-time work supporting a statewide ballot measure. Fahey started a grassroots organization that turned into a ballot committee, called Voters Not Politicians (Kelly Schalter, program manager at the Michigan Recycling Coalition, is also on the Voters Not Politicians board).
The group's measure amends the Michigan Constitution to establish an independent citizens' redistricting commission, which would redraw legislative and congressional district boundaries after the U.S. Census every 10 years. The goal is to prevent gerrymandering by taking redistricting out of the hands of the legislature.
The measure is opposed by the Republican Party, which has controlled redistricting in recent cycles. The Michigan Chamber of Commerce has funded an opposition group. The opponents tried but failed to keep the proposal off the ballot. The New York Times in July highlighted Fahey and her work on the measure in a newspaper editorial.
'I can't really complain about things if I'm not willing to step up'
Industry professionals are also looking to craft policy at the local level.
For example, Angie Wierzbicki is running for a city council seat in Missouri City, Texas, population 75,000. She co-founded Missouri City Green, the city's Keep Texas Beautiful affiliate, and was a force behind the launch of citywide curbside recycling there (the service began in January 2016).
In Petoskey, Mich., a town of 5,700 people in rural northern Michigan, Lindsey Walker is making her run for city council. Walker is employed by the recycling department at Emmet County, where she provides recycling outreach and market development for commercial recycling accounts.
Emmet County's dual-stream program does its own hauling and owns and operates a MRF. Resource Recycling featured the program as a Community Spotlight in its January 2017 print edition.
Walker said she was driven to run for council by three factors: the results of the 2016 general election, her longtime interest in politics and training as a community organizer, and the requests of current council members to run against the incumbent. The November 2016 election left her looking for someone to enact change, before she realized she was that person, she said.
"I can't really complain about things if I'm not willing to step up and do something about it," she said.
She particularly feels the call to push for renewable energy as a way to combat climate change, she said. Her other central issues are transportation and affordable housing. Because of her recycling work, she has learned about climate change issues, but her campaign isn't focused on recycling.
"I don't see the need to move recycling forward in our city because our city is already doing a great job of it and they already have the buy-in," she said.
Her candidacy faces a challenge many others need not worry about: separating her work as a public employee from her campaign. It's challenged by residents' recognition of her very public role at Emmet County Recycling.
"I don't tell people that I'm from Emmet County when I talk to people or I'm door knocking, but people know me for that," she said.
Connection to recycling 'is a really positive thing'
In Tulsa, Patton is running for a city council seat being vacated by his own wife, Anna America, who is taking a job as head of the city's parks and recreation department (Disclosure: Resource Recycling, Inc. donated to Patton's campaign).
Tulsa, a city of more than 400,000 people, has recycling service in large part because of Patton's decades of effort. It came despite challenges such as having a voluntary program in a city with rock-bottom landfill tip fees.
Patton became the city's first recycling coordinator, and he served for two decades at the executive director of The Metropolitan Environmental Trust (M.e.t.), which provides recyclables drop-off depots across the metropolitan area. The city now also has curbside recycling service.
Patton also helped start the Oklahoma Recycling Association and served two terms on the National Recycling Coalition board.
"Me having a connection to recycling before I ran for office is a really positive thing for me. If I have that conversation with people, I know I'm going to get their votes." – Michael Patton
At first glance, the odds might seen stacked against him. Patton, nicknamed "Recycle Michael," has environmentalist credentials in a deep red area (he's in a district made up of 28 percent Democrats. "If I run as a tree hugger, I lose," he said).
But Patton has found that his work to bring recycling service to the city builds credibility with voters of all political stripes.
"Me having a connection to recycling before I ran for office is a really positive thing for me," he said. "If I have that conversation with people, I know I'm going to get their votes."
'Don't be afraid to push for recycling if you're really into it'
Other recycling advocates are looking at seats in state legislatures.
Laura Liegois is the former solid waste manager for Muscatine, Iowa, a city of 24,000 people along the Mississippi River not too far from the Quad Cities area. Liegois is running for a seat in the Iowa House of Representatives. She was one of 81 Democratic candidates who received an endorsement from President Obama.
For Carey Hamilton, this fall's election will decide whether she continues crafting policy in her state's capitol. Hamilton, former executive director of the Indiana Recycling Coalition and current member of the NRC board, is running for re-election to her state House of Representatives seat. A Democrat, she was first elected to the position in fall 2016 (Disclosure: Resource Recycling, Inc. has also donated to both of her campaigns).
In Connecticut, Richard Ireland is making his first run for state office. Ireland serves as chairman of the recycling and solid waste commission in Plainville, Conn., a town of 18,000 people that's a short drive from Hartford. He has served on the commission since it first became a permanent advisory shortly after the turn of the millennium. He's also on the Connecticut Recyclers Coalition board.
"You have other things to worry about, but don't think you have to drop recycling for the other stuff." – Richard Ireland
Ireland has had his name on the ballot before. He was elected a town constable (constables in Connecticut serve court papers and collect back taxes, among other duties). He also ran two unsuccessful campaigns for Plainville Town Council. This time, Ireland, a Democrat, is challenging an incumbent Republican for his seat in the state House of Representatives.
On the campaign trail, recycling hasn't been a major focus; Connecticut's budget has. The Constitution State is running deep budget deficits, which will mean difficult decisions for the legislators who convene in January. "Mainly, people have asked about the budget," he said.
That's not to say he doesn't have ideas for state recycling policy. One of his goals is to add more beverage types to the state's container deposit program, including juices and milk.
His advice for others in the recycling world who are considering runs for public office: "Don't be afraid to push for recycling if you're really into it. You have other things to worry about, but don't think you have to drop recycling for the other stuff."
Photo credit: Peeradach R/Shutterstock

More stories about local programs