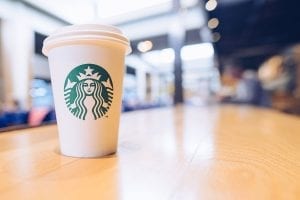 WestRock and other players in the paper supply chain recently completed a pilot project that collected and recycled 25 million fiber cups from Starbucks.
Through the pilot project, collected Starbucks coffee cups were sent to recycled paper company Sustana, which used the material to create 100 percent post-consumer recycled fiber.
That material was sent to WestRock's paper mill in Evadale, Texas. There, the feedstock was blended with virgin fiber to create cupstock, the paperboard product used for new cup manufacturing.
Finally, the cupstock was shipped to packaging converter Seda, which created the final Starbucks cups from the blended fiber.
"We've been working together for many years to advance the potential to recycle cups, and it's so great to demonstrate its viability," said Rhea Hale, public policy director for WestRock, in a video detailing how the project worked.
The project was also discussed during a session at SPC Advance in Boston in late September.
"The project proved that if collection systems exist, recycling paper cups and turning them into fiber for new cups is a sustainable alternative to landfilling, with both environmental and economic benefits," wrote Jay Hunsberger, vice president of marketing and sales for Sustana, in an announcement about the project.
In addition to this effort, WestRock also recently announced it has begun accepting food-service packaging, including coffee cups, at eight of its recycled paperboard mills.
Photo credit: Boyloso/Shutterstock
More stories about challenging materials