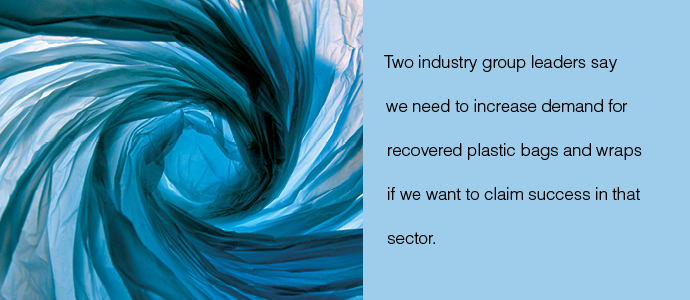 This article originally appeared in the October 2018 issue of Resource Recycling. Subscribe today for access to all print content.
Plastic film recycling has grown for 12 consecutive years and has more than doubled since 2005, climbing to 1.3 billion pounds in 2016. Those are impressive numbers, but they really only tell part of the story.
Recent turbulence in the markets for recycled film – in particular, China's current reluctance to import film for recycling – requires those of us in the professional recycling world to help stimulate domestic markets.
In other words, it's time for us to help increase demand for products made with recycled plastic film. Because if companies, governments, and consumers aren't buying recycled, then we're not really recycling.
Exercise in futility?
The mantra of waste management remains: reduce, reuse, recycle. If you don't need a bag, don't take a bag. Reuse anything you can. And recycle what you can't.
But perhaps we have diminished the pivotal role that demand plays in driving recycling success. Without strong, healthy markets for the materials we take in, collection itself could become an exercise in futility.
Step one is ensuring that the material we move into the recycling system is well-suited to the needs of downstream buyers. Used plastic film requires proper handling for end-of-life recovery.
Quality starts with smart collection strategies. As most readers are well aware, communities collect used film predominately at large retail outlets, such as grocery store chains and Walmart, Target and Lowes, or at community drop-off centers. Today we can return plastic film for recycling to more than 20,000 of these collection points in the U.S. Communities rarely collect plastic film at curbside because it's costly and can contaminate the other recyclable materials. (Learn more about the details at plasticfilmrecycling.org.)
And what specific materials should we be targeting as we consider how best to stimulate markets?
Recyclers want flexible film items made of polyethylene plastic, such as bags used to hold groceries, newspapers, produce, bread and dry cleaning. The category also includes plastic wraps that protect cases of water bottles, packs of diapers, bathroom tissue, paper towels and more. Also of value are plastic packing bubbles, shipping pillows and any film packaging with the How2Recycle "store drop-off" label.
The bags and wraps must be clean and dry. Wet or dirty plastic film contaminates the material, making it more likely that it will be landfilled instead of recycled. So produce bags should be dried out and breadcrumbs shaken from the bag before recycling.
Of course, it's also important to understand what we don't want to come into the film recycling stream.
Just because something is made of flexible plastic doesn't mean it always should go in the storefront recycling bin. One way to help partners articulate this to their customers or residents is to have them use terminology like the following: "Polyethylene plastic film is stretchy. If plastic film is not stretchy or if it's crinkly, it doesn't belong in this bin."
It's also critical to make clear that anything that is not stretchy/flexible film – straws, bottles, cups, caps and lids, for instance – does not belong in the storefront bin. Finally, residents and others must understand that if they see the How2Recycle "not yet recycled" label on film packaging, they should not try to recycle it.
Making the case for diversion
Another important foundation of market demand for all types of recovered material is ensuring steady flows of the material come into the system. With China's National Sword policy grabbing headlines across the media landscape, people across the country may be left with the impression that recycling plastic film or other materials is not worth the effort. It's up to industry stakeholders to explain that diversion does make a difference.
For one thing, using plastic film – and then recycling it – can help reduce materials usage and waste. Plastic bags and wraps are lightweight and strong, so they very often use less material than alternatives for the same function. That's the essence of source reduction: using less in the first place to reduce consumption of resources. Plastic film also efficiently protects consumer products to reduce damage and spoilage, such as food waste.
Once collected, these materials have value and typically are used to make new products such as backyard decking, playground equipment, park benches, shopping carts and new bags. Using them once and throwing them "away" is a textbook definition of waste. By recycling plastic film properly (collecting the right plastic film and depositing it in the right bin to avoid contamination), these materials can be recycled into a broader array of products, which can help increase demand.
Also of note is the fact that the very nature of plastic film makes it imperative that we capture these materials for recycling to keep them from littering our environment, both on land and water. Since film is lightweight, it's easily picked up by the wind and transported throughout our environment. Plastic film not collected for recycling is often littered from trash bins, garbage collection trucks, landfills – and careless people.
Urban, suburban and rural litter is an unsightly and costly problem. Litter in our parks, waterways, beaches and oceans can harm precious ecosystems, marine animals and communities that rely on unspoiled environments. Used plastics should never become litter.
Finally, proper plastic film recycling can help solve a serious problem for recycling facilities: contamination. Plastic bags and wraps can be recycled across the United States, but they typically do not belong in curbside collection bins or materials recovery facilities (MRFs).
Most existing MRFs are not designed to process used film – it can wreak havoc on sorting equipment, leading to interruptions and breakdowns that increase potential risks for MRF workers. Significantly, these disruptions also increase recycling costs for communities and negatively affect the costs of other recyclables. Proper recycling (such as bringing film to store drop-off bins) keeps plastic film out of curbside recycling bins and MRFs.
How to truly recycle: Increase demand, buy recycled
Without a market for the 1.3 billion pounds of plastic film currently collected, our recycling system breaks down. Collecting more plastic film without stimulating more demand is not sustainable. Demand must rise to absorb the supply.
As noted above, many companies make valuable products from used plastic film. For example, Trex is the largest consumer of used plastic film in the U.S., producing myriad types of plastic lumber for residential, commercial and government markets. In addition, more and more companies plan to use recycled plastic film to make products such as trash can liners and crates.
Recycling professionals can play a direct role in helping increase demand for these recycled plastic film products by:
Encouraging their purchase by your company or associated entities or offices.
Revising purchasing guidelines to require their purchase by your company or associated entities or offices.
Using and encouraging associated entities to use the Buy Recycled products directory (see recyclemoreplastic.org).
Publicly encouraging and recognizing companies that create products using recycled plastic film.
Signing up to be a WRAP Champion with the Wrap Recycling Action Program.
Encouraging local businesses to join the Association of Plastic Recyclers' Demand Champions Program.
Working with state economic development offices to facilitate support for local businesses to develop new end markets for plastic film.
Communicating to residents about the proper handling of plastic bags and wraps, including keeping them out of curbside bins, returning them to store recycling bins, and looking for the How2Recycle "store drop-off" label.
Encouraging residents to use the Buy Recycled products directory and to seek out products made with recycled plastic film.
Encouraging residents to reuse plastic bags and packing bubbles/pillows.
Encouraging residents not to litter and to dispose of dirty or wet plastic bags in trash cans, not recycling bins.
Recycling professionals do not need to do this alone. The Wrap Recycling Action Program (WRAP) provides expert resources to help recycling professionals encourage proper recycling of plastic film – including increasing demand – to prevent waste and protect the environment.
Come together
As a WRAP Partner, the U.S. Environmental Protection Agency notes, "There are great gains to be made for the environment, our society, and our economy by working together" to properly recycle plastic film.
We agree. We encourage all recycling professionals to rally around plastic film recycling, recommitting to increased collection and helping jumpstart broader efforts to boost demand for used plastic film.
Let's really recycle by putting in the energy to make sure all recovered film has a reliable path to becoming a new product.
Nina Goodrich is director of the Sustainable Packaging Coalition and executive director of GreenBlue and can be contacted at [email protected]. Shari Jackson is director of film recycling at the American Chemistry Council/Flexible Film Recycling Group and can be contacted at [email protected].