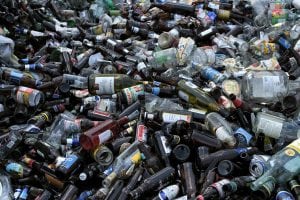 Citing market upheavals this year, Erie County, Pa. officials are asking people to stop putting glass in their curbside receptacles.
The material is already going to landfill as it stands, the county's sustainability coordinator told WENY News.
The county of 275,000 people along Lake Erie has some jurisdictions serviced by municipal haulers and others by private, contracted haulers. Municipalities contracting with haulers will continue to collect glass until the contracts are up, according to the article.
"Glass, due to its weight and how easily contaminated it can become in the single-stream recycling process, has increased the cost to recycle glass bottles and jars," according to the county's recycling program. "Due to the high cost, there are few, if any, outlets for recycled glass. Therefore most recycling programs will phase out glass as an acceptable material, if they haven't already."
Other materials that'll be phased out of programs in the county include shredded paper, envelopes, postcards or other small papers.
Photo credit: Huguette Roe/Shutterstock
More stories about glass