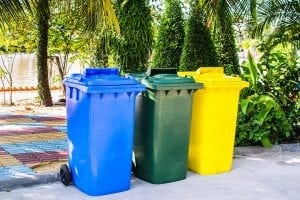 After Resource Recycling highlighted conservative commentators who questioned the foundations of materials recovery, a number of industry professionals jabbed back, noting the economic strengths still inherent in recycling.
In July, a handful of opinion pieces in right-leaning publications attacked the recycling industry, suggesting that the current market downturn has illuminated problems inherent to the industry. For instance, a piece in Frontpage Magazine noted that "the recycling scam shipped garbage on dirty ships for dirty industries while pretending that they're clean and green."
Reader responses pointed to deeper nuance in the problems facing the industry, and they generally rejected the idea that recycling as a whole has been a con.
The following are some of the responses we received:
Quality, not quantity, is key to success
"I read with great interest your recent article regarding conservatives who rip recycling as a scam.
"Basically, I am a conservative, and I feel recycling has not been a scam, but instead a major necessary business in the United States providing fiber to the secondary markets and creating tens of thousands of good jobs throughout the country.
"I have personally been involved, working in the industry for over 40 years and at the same time, proud of being my family's third generation in the paper recycling business starting in 1917.
"What has happened in our business is actually not difficult to decipher, as we took our eye off the ball so to speak. Recovered fiber paper mills compete head-on versus  virgin paper mill producers both domestically and abroad. You can only make paper out of clean recovered fiber or wood pulp; you can not produce paper from plastic, glass, metal, aluminum, rubber, food waste and plain garbage.
"For years, our industry fought hard to have our products accepted, while at the same time promoting good, clean, quality recovered fiber. Let's be truthful: all was going well until the industry got away from paper recyclers, paper packers and waste haulers who handled and produced good quality fiber. The quality of material was first and foremost.
"Many (but not all) newcomers in our industry got away from the practice or just didn't predict the negative consequences that we are seeing due to sub-par quality. I stated publicly for years that single-stream recycling would cause havoc and be the downfall of our industry in terms of low-grade recycling, starting with mixed paper. For single-stream recycling to work, it had to produce a good, quality-driven item. If not, it would cost the industry and cause us major issues in the future.
"What has happened in China should not come as a surprise, as U.S. paper mills – especially box board mills – pulled back from using single stream back in the 2000s. Mills could not afford to pay 100 percent for the volume but receive 80 cents on the dollar in value. At the same time, the 20 percent that could not be used, ended up costing the mills a second time in landfill disposal.
"What is surprising is the amount of time it took the Chinese to catch up to this. In the end, it has always been about quality with recovered fiber. If clean, the product that we can produce can be a tremendous source of secondary material that can be used all over the world. Again, the emphasis is on a clean product that has industry standards applied to it (ISRI PS standards). It's tough to say what the future holds regarding this issue, but remember this: You are selling a product to a buyer and the buyer has to be able to economically use the product in order to compete with its competition.
"This industry needs to get back to promoting quality first and educate the entire public. If we are going to collect and recycle a low-grade item be it single-stream or dual-stream, such as with mixed paper, it will be quality not quantity that will make this entire process work."
Jonathan Gold
The Gold Group
Recycling Consultants LLC
Differentiate between sectors
"I read your article, and while there is some validity to the comments of those noted, to infer recycling is a scam is to paint with a broad brush over a very robust industry.
"Metals recycling is and remains a healthy, successful industry that represents the lion's share of recycling weight.
"The issue the industry faces is from consumer generated 'commodities' from MRFs that have to be subsidized from the start to make them viable.
"There is a multibillion dollar industry that marches on, employing hundreds of thousands of workers in the recycling industry, in spite of news referring to their industry as a scam.
"Distinguishing from the two sectors of the market would be prudent in my opinion."
Mike Hinsey
Granutech
Government subsidies bear some blame
"Thanks for bringing another viewpoint to the discussion about our current market problems in the recycling industry.
"However, as conservative as I like to think that I am, I would have to argue that the recycling industry is not a 'scam' as some of the writers from your article suggest. … The problems with our recycling industry today are yet another example of how government subsidies are responsible for the slow decline and eventual collapse of a once-thriving industry by either eliminating or distorting the feedback mechanisms of a free market economy that are necessary to maintain efficient and cost effective programs."
Stiles Peabody
City of Alexandria
Photo credit: ker_vii/Shutterstock
More stories about markets