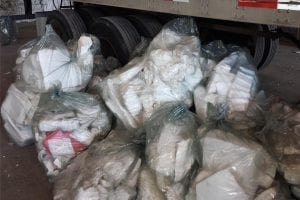 Canada's largest city conducted a pilot project last year to find a consistent outlet for densified foam polystyrene. The effort reached a clear conclusion, but it wasn't good news.
"After distribution of the densified EPS to potential re-processors for evaluation, no viable market could be established for either the densified EPS, or standard baled material, with the existing quality," according to a post summarizing the project.
The 2017 pilot project was led by Toronto Solid Waste Management Services. The city contracted with Mason, Ohio firm Eco Development LLC to help conduct the project and share the results of its research.
The project received funding support from the Continuous Improvement Fund (CIF), which contributed 35,000 Canadian dollars. The Canadian Plastics Industry Association (CPIA), donated another 7,500 Canadian dollars. The project and its results were described in a report submitted this spring to the CIF, a joint industry-government initiative funded by brand owners as part of Ontario's extended producer responsibility program for residential recycling.
"As a result of the pilot, it is believed that an offer to purchase for the recycling of EPS at this time, whether baled or densified, is likely to produce few or no bids and that the price offered would be costly to the City," according to the report.
Foam at the curb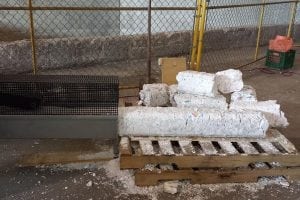 Toronto first added expanded polystyrene (EPS) to its curbside program in December 2008. Households were allowed to begin diverting a range of contaminated foodservice items, including meat and produce trays, take-out food containers and egg cartons.
The material is sorted from the single-stream mix at a materials recovery facility (MRF) operated by Canada Fibers. The majority of pieces are picked out by manual sorters, either at the beginning of the sorting system, on the pre-sort line or on the cardboard line, according to the city's report. Smaller pieces are picked by manual sorters off the PET line.
Handling foam in the MRF has been challenging for multiple reasons. In addition to food contamination, the foam breaks into pieces, comes in a variety of colors and often includes film wraps and labels. Additionally, lookalikes made of polyethylene, polypropylene or other plastics can be difficult to distinguish from PS. And foam is more difficult to bale than denser products, and the freight economics are challenged by the low density.
In addition to those issues, the loss of downstream markets have challenged the city's program. Toronto has been without a regular contracted vendor to take foam bales since April 2017. That being said, CPIA has arranged for a handful of truckloads of PS foam collected by the city to be sent to Plastics Recycling, Inc. (PRI) in Indianapolis, helping to reduce city stockpiles. PRI has a large and technologically advanced facility capable of recycling post-consumer foam into pellets for use in various products.
How the pilot was conducted
An aim of the pilot project, which began in June 2017, was to see if densified foam could be more readily moved to market than baled material. City crews transported bagged foam from the MRF to a city-owned maintenance building, where densifying took place.
For the project, Eco Development rented a RUNI SK200 densifier, which uses a screw press to compact EPS pieces. City staff hand-sorted the EPS, removing obvious contaminants, before feeding the machine's hopper.
As a result of the hand-sorting, staff generated 285 pounds of residue. It was made up of PP foam used to protect electronics during shipping; PE foam wrap used as packaging protection and plumbing insulation; No. 7 foams used for foodservice packaging; and a variety of films.
Some of the film managed to get into the densifier and wrap around the screw, forcing staff to take time to remove it.
Over the course of the densifying, which took place in October, the SK200 processed about 88 pounds per hour. The equipment has a maximum throughput capacity of 100 pounds per hour.
The finished blocks weighed just over 17 pounds each, and the pilot project densified more than 3,800 pounds total. In November and December, Eco Development shipped samples to processors to see if they could use them on a regular basis.
Reclaimer reactions
While mostly off-white in color, the samples were also gray in areas and had small patches of pink and blue. Cracks in the logs were an indication of contamination, especially non-EPS foam, according to the city's report.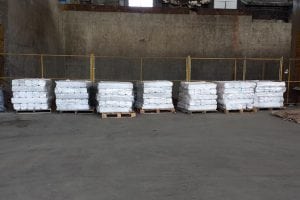 Plastics processors found the samples contained fire retardants, which are used in insulating foams. The report described their presence as problematic.
"Blue and pink sheets that resembled foam insulation were sorted out during densification as residue, but it is possible a small amount was missed and that it became mixed into the densified sample blocks," the report states.
Eco Development looked at a number of potential processors. Berga Recycling of Montreal expressed initial interest in recycling a sample into pellets for sale into construction markets, but it decided not to because it was concerned contamination would cause problems in the melt filtration equipment.
The consultant also reached out to three other Canadian companies: GreenMantra Technologies and Pyrowave, which use chemical recycling technologies to break down plastics, and Polystyvert, which uses essential oils to dissolve EPS before later separating it for recycling. According to the city's report, issues related to the presence of fire retardants, contamination, freight costs and inexperience processing MRF-generated material dimmed hopes that those outlets would regularly take the city's EPS.
Eco Development put together a proposal through which a broker would intermittently send the city's EPS to a reclaimer to make pellets or into the waste-to-energy market. But the proportion of burned versus recycled wasn't disclosed, and city officials wouldn't get to determine the outlet. The inclusion of a waste-to-energy component was a deal-killer for the city.
Toronto officials are now waiting to hear whether PRI would be interested in taking additional material on a long-term basis. PRI's decision will depend on quality, PRI's capacity and cost, according to the report, which noted PRI works with PS products maker Dart Container Corp.
Additionally, Ontario's transition to full extended producer responsibility for residential recycling could ultimately affect reprocessing capacity and/or the prevalence of EPS in the stream, according to the report.
In the meantime, Toronto has continued sending occasional loads to PRI with CPIA's assistance.
Photos courtesy of City of Toronto Solid Waste Management Services
More stories about challenging materials