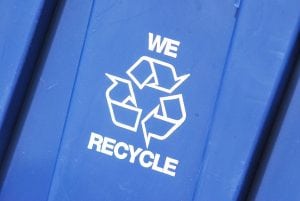 At least 60 recycling professionals from around the country will receive grants to attend the 2018 Resource Recycling Conference, a 13 percent increase from last year.
The Recycling Partnership announced that more than $80,000 will be awarded through the Steve Thompson Memorial Grant program this year. The money will pay travel, lodging and registration costs for recipients. At the conference, the 60 grantees will take part in special workshops and social events organized for them by The Recycling Partnership. The conference will be held in St. Louis Oct. 22-24.
The grant funds were provided The Recycling Partnership, Closed Loop Partners and Resource Recycling, Inc., and additional funders are welcome to further grow the opportunity, according to a press release from The Recycling Partnership.
"The term 'partnership' is in our name for a reason – we can't do it alone," Keefe Harrison, CEO of The Recycling Partnership, stated in the release. "The Steve Thompson Memorial Grant program shows partnership in action: industry corporations coming together to educate state and local change-makers and deliver powerful, effective, tactical tools to boost recycling across the country."
This is the third year that The Recycling Partnership, in association with Resource Recycling, Inc., has offered the grants. Fifty-three were awarded last year, up from 10 the previous year.
Among this year's grantees is Jennifer Shaver, environmental programs coordinator for the city of Arlington, Texas.
"The Resource Recycling Conference will provide me with educational and informative sessions particular to lessening contamination rates, composting and working with our MRFs and waste haulers to create even more successful programs while strengthening outreach efforts," she said.
Another grantee this year is Lesha Earl, public education and outreach coordinator for Trans-Jordan Cities in Salt Lake City. She attended the conference last year and found tools to help boost awareness about recycling and information she was able to incorporate into her recycling presentations, she said.
"Attending the 2018 conference is more important than ever, since recycling has become more costly to our cities and some are even considering reducing or removing the recycling program altogether," she said. "The key to maintaining our recycling programs is reducing contamination. By attending the sessions, I will be better equipped to assist cities in reducing recycling contamination and have additional information to provide our elected officials."
More than 350 recycling professionals from all 50 U.S. states and five countries submitted applications this year.
Steve Thompson served as executive director of The Recycling Partnership's precursor organization, the Curbside Value Partnership, before retiring in 2014. He passed away in 2016.
Photo credit: Michael H Jones/Shutterstock
More stories about industry groups