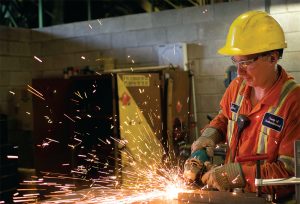 Over the past decade, the materials recovery facility in Northumberland County, Ontario has enjoyed a series of upgrades, including new balers, a new screen system and optical sorters for fiber. But Karl Allen, plant manager, has learned that equipment is only one of the ingredients for success.
"You need staff who work collaboratively to adapt quickly to material changes, understand how to get the maximum performance from processing equipment and are dedicated to operating in a safe and respectful working environment," Allen said.
The 55,000-square-foot facility is located in Grafton, a small town 80 miles from Toronto. The publicly owned and operated facility has two sorting lines: one for single-stream material and another aimed at containers. The lines use equipment from both CP Group/MSS and Machinex.
Last year, the MRF sorted 16,500 tons, or 77 tons per operating day. Of that amount, about 54 percent was single-stream (collected in split recycling-garbage trucks), 28 percent was source-separated fiber and 18 percent was source-separated containers.
The facility receives material from 38,000 curbside stops throughout Northumberland County. In 2013, the City of Kawartha Lakes, which is a jurisdiction located outside the county, inked a deal through which the MRF would receive recyclable materials generated by the city through at least 2018, with a possible extension through 2020.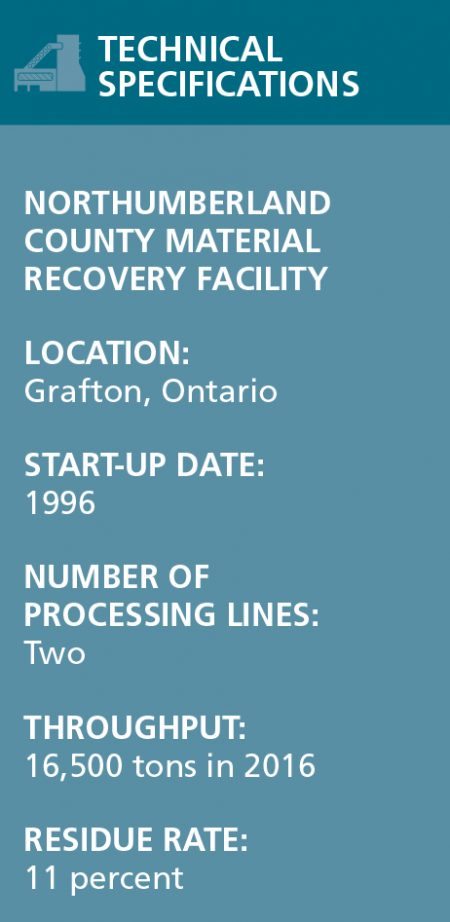 Allen said that regionalized approach provides economies of scale and allowed the facility to proceed with a $900,000 Canadian (about $660,000 U.S.) container-line upgrade in 2015.
The upgrade received roughly $320,000 (about $235,000 U.S.) in assistance from the Continuous Improvement Fund (CIF), a producer-funded program established to help municipalities improve recycling.
The aim was to boost PET sorting, which was previously done manually on a container line designed in 1996, before many innovations and shifts in the packaging realm had occurred. The system was ill-equipped to handle today's higher volumes of PET beverage containers and thermoforms, for example, and about 15 percent of the PET was being missed by manual sorters and ended up in the landfill. In addition, Northumberland County was spending an average of $15,000 a year on employee injuries associated with repetitive motions. That number has since been reduced to zero.
The upgrade, which was provided by Quebec-headquartered Machinex, included a Mach Hyspec optical sorter, mesh air screen, PET quality control station, PET blower system and various other structural and electrical components and conveyors.
The results were not only an increase in PET recovery but a decrease in operating costs. Total container line throughputs increased from 2.2 tons per hour to 8.8 tons per hour. Diversion of PET increased by two-thirds.
The project yielded an annual savings of $360,000 Canadian (about $265,000), according to an August 2016 project results document. The estimated payback for the system is about 2.5 years.
The improvements were a big boost to the county's effort to increase its diversion rate. Last year, the rate was at 43 percent, and the county's goal is to cross the 70 percent threshold by 2020.
The Northumberland County Material Recovery Facility has 40 employees working on one shift, Monday through Friday.
This story originally appeared in the June 2017 issue of Resource Recycling. Subscribe today for access to all print content.