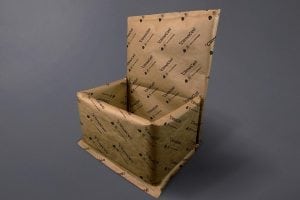 The Closed Loop Fund will provide financing to boost production of fiber-based insulated food packaging, with an eye toward reducing the amount of foam polystyrene entering MRFs.
The organization, which is part of Closed Loop Partners, provided a $4.5 million low-interest loan to TemperPack. The company makes a recyclable insulation used by e-commerce companies shipping food and temperature-sensitive pharmaceuticals to households. It can be recycled alongside OCC.
"From our MRF testing, we've seen that TemperPack's ClimaCell packaging can greatly reduce the burden of Styrofoam ending up in the recycling streams and the packaging has proven to make it through the OCC lines at MRFs," Bob Milligan, vice president of operations due diligence at the Closed Loop Fund, stated in a press release.
The money will support the expansion of TemperPack's production capabilities in Las Vegas. Temperpack also manufactures its product in Richmond, Va.
SJF Ventures, a Durham, N.C.-based firm focused on investing in high-growth sustainability focused companies, has also backed TemperPack.
TemperPack has also been growing its production capabilities in Virginia.
More stories about industry groups