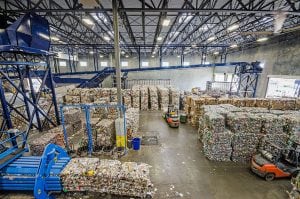 A shuttered mixed-waste processing site in Montgomery, Ala. will reopen to once again separate recyclables from garbage.
The decision comes after the city considered other options, including a single-stream MRF model proposed by one company.
The former Infinitus Renewable Energy Park (IREP) facility in Montgomery, Ala. has sat idle since 2015. Last week, the city announced the plant will be restarted by RePower South, a South Carolina-based company that describes itself as "an advanced recycling, recovery and renewable energy company."
The facility, which was originally built for about $35 million, will be renamed the City of Montgomery Recycling and Recovery Facility. RePower will invest an additional $12 million in upgrades to the plant, allowing it to produce a fuel product from some of the material it processes.
Bulk Handling Systems (BHS) and Loesche Energy Systems will supply the equipment to upgrade the site, according to a BHS press release. The new equipment will include a primary reducer, two NRT optical sorters for fuel cleanup, a Loesche fuel system reducer and PAAL Dokon baler, according to BHS. All told, "the system will process 45 tons per hour of mixed waste to capture cardboard, metals, paper, plastics and produce fuel," BHS stated.
BHS supplied the sorting equipment for the original system, including BHS screen, Nihot air and NRT optical sorting technologies.
Storied history
The former IREP plant opened in 2014 but closed in 2015 and has sat vacant since then. A company official cited commodity prices and lower-than-expected material volumes as significant hurdles that forced its closure. Since then, all of the city's recyclables have been going to landfill.
IREP Montgomery-MRF LLC filed for bankruptcy in 2016. The city of Montgomery took possession of the plant and began negotiating with potential operators.
Early this year, city Finance Director Barry Crabb told Resource Recycling multiple companies were interested in restarting the facility, either as a mixed-waste plant or a single-stream MRF.
In March, officials confirmed the city was negotiating with a mixed-waste processor but would shift gears to the sole interested single-stream MRF operator if those talks fell through. WasteDive identified the companies as RePower and Pratt Industries, respectively.
More stories about local programs