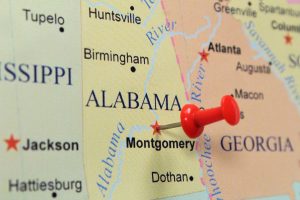 A shuttered Alabama facility that was built to separate recyclables from trash could reopen in October, and city leaders are leaning toward trying the mixed-waste approach again.
Two companies are interested in operating the Infinitus Renewable Energy Park (IREP) facility in Montgomery, Ala., the Montgomery Advertiser reported March 23. The companies have not been publicly named, but one would convert the facility to operate as a single-stream plant and the other would reopen it to sort recyclables out of the garbage stream, the paper reported.
That's one company less than was in the running in January, when Montgomery's finance director, Barry Crabb, gave Resource Recycling a status update.
Mayor Todd Strange told the Advertiser the facility would require between $10 million and $12 million in new equipment before it reopens, no matter which company ends up operating it. Single-stream would require a major conversion of much of the equipment inside the facility. It would be "operationally 180 degrees from what we do," Strange told the paper. Strange indicated the city would prefer that the facility be reopened as a mixed-waste plant, which he stated would keep the most material out of the landfill.
In an email this week, Crabb confirmed the city is negotiating with the mixed-waste processor, and would shift gears to the single-stream MRF operator if the current talks fall through.
Mixed waste would also require capital expenses. If chosen, the potential mixed-waste operator wants to install equipment that would convert a portion of the waste stream into fluff fuel, according to Crabb. That equipment would cost between $3 million and $5 million, and the mixed-waste operator would also pay a $1 million deposit in case the project fails in its first three years. 
IREP opened in 2014, closed in 2015 and has sat vacant since then. An IREP official cited commodity prices and lower-than-expected material volumes as significant hurdles that forced its closure. Since the shutdown, all of the city's recyclables have been going to landfill.
Photo credit: Zmaj88/Shutterstock
More stories about MRFs