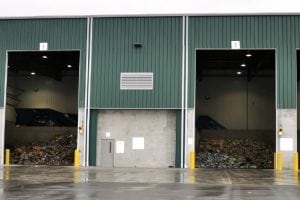 While single-stream is now the norm in collection and processing in many parts of North America, one Canadian region is finding success by putting a focus on keeping fiber and containers separated.
The 75,000-square-foot MRF in London, Ontario has the largest capacity of any dual-stream facility in Canada and is among the largest when measuring actual throughput. Since it opened, the $22.4 million Canadian (about $17.7million USD) facility has been able to capture a very high percentage of materials placed by residents in the correct bin: 99 percent.
"Basically, when participating communities and businesses do their job of sorting the correct material into two streams, the MRF produces a value-added material stream for end markets," according to city of London officials.
Sited on the edge of the city of 380,000, the MRF is owned by the city and operated by Miller Waste Systems, which designed and built the system. It was funded with $18 million Canadian in federal gas tax funding and a $4.4 million Canadian grant from the Continuous Improvement Fund (CIF), a partnership of municipalities, the provincial government and a stewardship group. CIF aims to improve the province's curbside recycling program.
Sorting equipment was provided by Quebec-headquartered Machinex.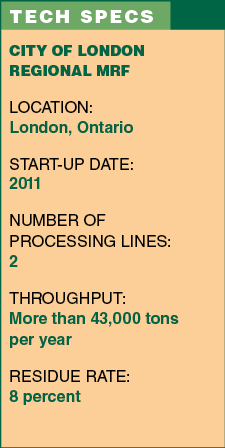 Residential curbside recyclables arrive from a number of local municipalities in addition to London: Alymer, Bayham, Central Elgin, Dutton-Dunwich, Malahide, Southwold, St. Thomas, Thames Centre and West Elgin. Both residential and commercial material is collected in separate fiber and container streams. As far as tonnages are concerned, the facility's fiber sorting line handles about 110 tons per day and its container line tackles about 45 tons per day of commingled containers.
Despite growth in tonnage since it opened in 2011, the MRF still has room to expand. The CIF grant paid the costs of increasing the design capacity beyond what London needed so it could handle up to 82,500 tons from throughout the region (it also allowed the MRF to be designed to be converted to a single-stream facility in the future if needed).
The fiber line's equipment includes two screens – a triple-deck OCC screen and an ONP cleanup screen – and manual quality control stations. The container line has a magnet, air classifier to remove glass, perforator, optical sorter, manual sorting stations and an eddy current separator.
The optical sorter, from Pellenc, ejects PET upward and Nos. 3-7 plastics downward, allowing aluminum, cartons and HDPE to fall into the default center chute.
The MRF uses two high-density Machinex balers to ensure operations are not halted if one baler goes down. A third, smaller baler is used for films and oversized HDPE containers.
Facility staff pride themselves on very clean bales, many of which go to local markets. The MRF is located between Detroit and Toronto near two provincial highways.
"End markets have been extremely pleased with material from the MRF," according to London officials. "The average over the last four years per-ton revenue from the facility has typically exceeded the CIF Pricesheet Ontario composite price by approximately 10 percent."
The better bale prices and lower facility operating costs mean the city and partner municipalities have benefitted from savings and avoided costs to the tune of $1 million Canadian per year. That estimate is the result of comparing pre-MRF expenditures from 2010 with expenditures last year.
Still, some challenges persist. City officials pointed to the evolving ton, ever-changing markets, and materials local residents want to recycle but for which markets remain weak. The operation's residue rate fluctuates throughout the year from a low of about 4 percent of a high of about 10 percent, but it averages 8 percent.
Depending on the time of year, the City of London Regional Material Recovery Facility employs 30 to 40 people on one shift, Monday-Friday.
This article originally appeared in the May 2018 issue of Resource Recycling. Subscribe today for access to all print content.