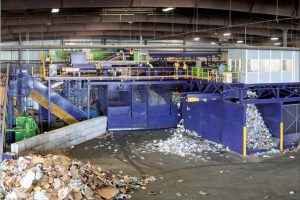 A MRF at the heart of California's agricultural region has been doing some growing of its own to handle increased volumes and complexity in the recycling stream.
Originally built in 2001, Mid Valley Disposal's MRF in Fresno, Calif. underwent a major retrofit last year, installing optical sorters and a host of other sorting technologies. The upgrades boosted throughput capacity from 20 tons per hour to 35 tons per hour.
The equipment was provided by San Diego-based CP Group and its optical sorter division, MSS, Inc.
"We are pleased to have … reinvested in the San Joaquin Valley," Jonathan Kalpakoff, vice president of Mid Valley Disposal, stated around the time of the facility re-opening in April 2017. "Increased processing capacity and the recovery of more recyclables will help with our commitment to increase diversion for the communities we serve."
The 50,000-square-foot MRF has one residential line and one commercial line.
Together, they can sort more than 60,000 tons per year of single-stream material, which comes in the door from over 30 central California communities.
With a fleet of 165 trucks, Mid Valley Disposal collects recyclables from 89,000 households in Fresno – about half the city – and delivers them to the MRF. Third-party haulers deliver recyclables collected from another 75,000 households in Madera, Tulare, King and San Luis Obispo counties.
The 2017 MRF upgrade led to the installation of three MSS optical sorters: a CIRRUS FiberMAX, which is used to remove film and other contaminants from the fiber stream; and two CIRRUS PlasticMax units, which are used to separate HDPE, PET and mixed plastics.
The upgrade also introduced a number of disc screens, including CP's steel-disc OCCScreen, scalping screens, glass-breaking screens, a NewScreen and two CPScreens. An air drum-style glass cleaner removes light fractions from the glass.
The MRF still uses the bunkers, silos, baling system and tip floor pit from the previous sorting system.
The MRF recovers OCC, mixed paper, glass, PET, and color and natural HDPE. The biggest issues the facility faces are contamination and increased regulations, according to the company.
The Mid Valley Disposal Elm Ave MRF employs 70 employees on one shift, Monday-Friday.
This article originally appeared in the April 2018 issue of Resource Recycling. Subscribe today for access to all print content.