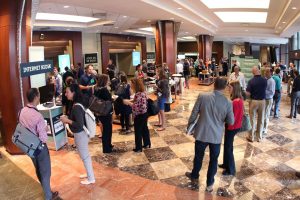 Financial assistance from The Recycling Partnership will again afford dozens of recycling professionals the opportunity to deepen their industry connections this fall.
The Recycling Partnership, in association with Resource Recycling, will provide free travel, accommodations and registration to the 2018 Resource Recycling Conference, to be held Oct. 22-24 in St. Louis.
This is the third year in a row the nationwide nonprofit has partnered with Resource Recycling to offer the Steve Thompson Memorial Grants. The awards pay for conference registration, a two-night hotel stay and travel reimbursement up to $500. Online applications for 2018 grants are due Monday, June 4.
"The Steve Thompson Memorial Grants allow us to build community, learn from one another, and continually improve the state of recycling in the U.S.," said Keefe Harrison, CEO of The Recycling Partnership.
Last year, The Recycling Partnership and industry funders provided more than $80,000 to assist 53 people, a five-fold increase over the previous year.
"I learned so much, made great connections and am looking forward to using some of the tools and knowledge to increase our recycling efforts and waste diversion here in St. Louis," said Elysia Musumeci, a 2017 grantee. Musumeci is sustainability education and outreach coordinator at nonprofit group Brightside St. Louis and the city's St. Louis City Recycles program. "I would not have been able to represent the City of St. Louis without the Steve Thompson Memorial Grant and take part in such a fun and educational conference."
Another grant recipient last year, Keola Aki, recycling specialist at the County of Kauai Solid Waste Office in Hawaii, said "My experience at this conference showed me that we need to work together so that we can all share our experiences … and to expand the audience for issues of waste diversion as it affects so many facets of our environment. In the end, many small steps can still take you miles, and this conference has showed me many steps I can take."
Recycling industry leader Steve Thompson, who passed away in 2016, served as executive director of The Recycling Partnership's precursor organization, the Curbside Value Partnership, and was a committed recycling champion.
The Resource Recycling Conference is taking place Oct. 22-24 in St. Louis. Details on registering are available online.
More stories about industry groups