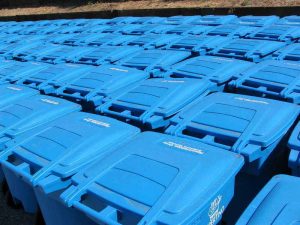 More than 50 U.S. recycling professionals will receive grants to attend the 2017 Resource Recycling Conference, a five-fold increase over last year.
The Recycling Partnership said additional industry partners have boosted funding for this year's Steve Thompson Memorial Education Grants program. Together, those funders contributed over $80,000 to pay travel, lodging and conference registration costs for grant recipients.
The conference is being held Aug. 28-30 at the Hyatt Regency Minneapolis in Minnesota.
This year, 53 grants were awarded from more than 500 applications. In 2016, the first year of the program, 10 grants were issued from more than 200 applications.
The Recycling Partnership received contributions from nine additional funders this year: Cascadia Consulting Group, the Closed Loop Foundation, Dow, Keep America Beautiful, ReCollect, Recycle By City, Resource Recycling Inc., Re-TRAC Connect, and the Sustainable Packaging Coalition.
"You can accomplish more with others than you can do alone," Keefe Harrison, CEO of The Recycling Partnership, stated in a press release. "We thank these companies and groups for joining us in bringing 53 recycling professionals from 34 U.S. states and the District of Columbia to the Resource Recycling Conference."
The Steve Thompson Memorial Education Grants program is managed by The Recycling Partnership, in association with Re-TRAC Connect and Resource Recycling, Inc. Thompson, who passed away in 2016, served as executive director of The Recycling Partnership's precursor organization, the Curbside Value Partnership, and was a committed recycling champion.
In other news from the nonprofit group, The Recycling Partnership announced on July 24 that it has teamed up with the City of Atlanta to launch a "Feet on the Street" public service and educational campaign to reduce contamination. The pilot effort will include targeted messaging and tagging contaminated carts.
The Resource Recycling Conference is taking place Aug. 28-30 in Minneapolis. Details on registering and the full agenda schedule are available online. 
More stories about industry groups