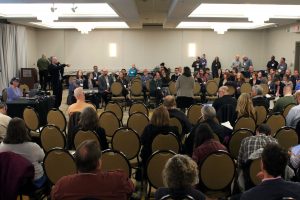 Many recycling experts see China's imports curtailment as an opportunity to rebuild domestic recycling infrastructure. A recent workshop in Portland, Ore. fostered conversations on how to begin doing that in the Pacific Northwest, a region that has long been fairly export dependant.
"I know we've talked about this for many years, but it's time to get really serious about it," Marjorie Griek, executive director of the National Recycling Coalition (NRC), told attendees at the the event. "China isn't going to change its mind anytime soon. And, again, some other market may open up, but why give them our good materials."
The one-day workshop, entitled "Recycling Markets Development in the 21st Century," was put on by NRC and the Association of Oregon Recyclers (AOR). It was held on April 4, one day after the Northeast Recycling Council (NERC) held its own market-development workshop in Maryland.
The Oregon event drew more than 140 people from several states to discuss a wide range of issues and materials. The first half of the day included rapid-fire presentations on a variety of topics, and the second half included an open discussion of local needs and opportunities moderated by Lisa Skumatz.
The following were a few takeaways from presentations and discussions at the event:
Sustainable materials management (SMM) framework: Minal Mistry, who works on business initiatives and partnership for the Oregon Department of Environmental Quality (DEQ), presented about the state's 2050 Vision for materials management. Mistry explained how an SMM framework allows for the evaluation of life cycle environmental impacts of a product. The evaluation may show, for example, that a package or other product designed for recyclability and/or using recycled content may generate more greenhouses gases than a non-recyclable, virgin-material counterpart. "Design for environment is very different than design for recyclability," Mistry said. He also stressed the importance of the sharing materials responsibility feedback with upstream actors. Noting that he's worked in packaging development, he said, "Trust me, they don't think about it. They think about cost, performance and aesthetics."
Recycled-content manufacturer: Jan Rayman discussed how his company, ReWall, came to develop building insulation products made from 100 percent recovered cartons. He explained the long process and multiple hurdles that had to be overcome to create an end-market for the multi-material packaging, and how partnerships with local governments have helped secure funding for capital and customers. A 100,000-square-foot roof using the company's roof cover board, for example, will divert 100 tons of cartons from landfill. The company has secured funding to expand capacity from 10,000 tons to 200,000 tons annually, a scale up that will occur this year, he said.
Mixed-plastics potential: Lisa Sepanski, project manager for the King County (Wash.) Solid Waste Division, recapped a Jan. 30 meeting looking at domestic processing of mixed plastics. More than 60 attended. Attendees learned that Merlin Plastics, a sorting and recycling company in the Vancouver, British Columbia area, has the capacity to take mixed plastics from Washington, she said. They also discussed establishing in the Pacific Northwest a secondary MRF, which would take in residue from multiple MRFs and sort, bale and ship specific plastics to market. It would be an alternative the past practice of sending mixed-plastic bales to China. Another advantage is the facility could respond effectively to the evolving ton, she said. "Rather than having to retrofit every MRF, you could really trick out this secondary MRF," Sepanski noted. King County is creating a task force of elected officials and policy makers to discussion solutions for plastics, and potentially fibers as well.
Financing and partnership opportunities: Different presentations explored sources of public and private support for recycling businesses. Bryan Guiney, a regional development officer for Business Oregon, the state's economic development agency, explained how the state can partner and provide low-cost financing and credit guarantees for recycling market development efforts. He pointed to stimulation of the aerial drone industry, electric vehicle infrastructure and provision of broadband service in rural areas as success stories. Ellen Martin from Closed Loop Partners and Dylan de Thomas from The Recycling Partnership covered how their organizations provide financial support for the industry in different yet complementary ways. Martin noted that since 2015, Closed Loop Fund has invested $35 million in 15 projects. The Recycling Partnership has provided 420,000 carts and assisted a total of 640-plus communities, de Thomas said.
Extended producer responsibility (EPR): The workshop included a presentation from Allen Langdon, managing director of Recycle BC, which is the province's EPR group for printed paper and packaging. He said the system has been able to standardize the list of accepted materials for the province, a sprawling jurisdiction one-third larger than Texas. He also explored capture and contamination rates for different areas (urban versus rural) and collection methods (single stream versus multi-stream). Fiber in multi-stream collections averages only 2 percent contamination. That being said, mixed-paper, which has historically been sent to China, still lacks outlets in the Pacific Northwest, he said.
At the end of the day, Griek asked the participants apply their energy to the next steps of advancing market-development efforts.
"We're not here just to talk. We need action," she said. "We're not going to get it tomorrow. We know that. But we need to take steps and move forward on this. We don't want to lose momentum."
NRC is planning workshops in other regions of the country. The group will hold one in Atlanta this summer and in the Midwest this fall. Consulting and research firm Resource Recycling Systems (RRS) is working for NRC to develop a report of findings from the events, Griek said. NRC will also provide updates at the Resource Recycling Conference, which will be held Oct. 22-24 in St. Louis.
Below is a slideshow of photos from the event. Hover over the image to see arrows that will allow you to advance through the photo set.
Photo credit: Jared Paben/Resource Recycling
More stories about industry groups