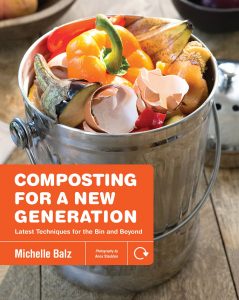 A recycling program coordinator for an Ohio county has authored a backyard composting book, encouraging home composting and providing a one-stop shop for professionals who are educating others about the practice.
In her day job, Michelle Balz is the assistant solid waste manager for Hamilton County Recycling and Solid Waste District, which was featured in October in Resource Recycling magazine. She's also been a composting enthusiast for years, an interest that began as a result of encouraging others to compost as part of her job.
Over the course of a year-and-a-half, she translated that interest into a comprehensive collection of compost-focused how-to documents. The product, a 192-page book titled "Composting for a New Generation," was recently released by Minneapolis-based publisher Quarto Publishing Group.
"I really wanted to create a guide for anyone who was composting, but also anyone that was teaching others about composting," Balz said. When she was teaching about the subject in the beginning, she had to pull information from many different sources, and wanted to provide a central location for compost facts.
The book covers the benefits of composting, such as improving the ability of soil to hold water through aeration, as well as lowering methane emissions in landfills. The book also explains the science behind composting, describing how microorganisms work to decompose the organic materials.
Then, it walks the reader through the basics of home composting. It explores the different methods, such as in-vessel or pit composting. It also covers maintenance, harvesting and more.
The title refers to the evolution of compost, which in its early days was practiced by people most dedicated to reducing their environmental impact, as well as hardcore gardeners looking for the soil benefits.
"I think more and more average people are trying it," Balz said.
More stories about organics