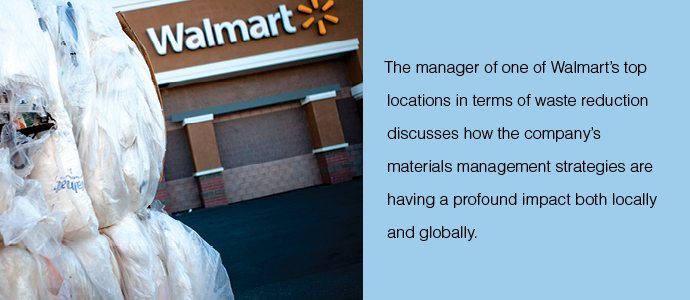 This article originally appeared in the February 2018 issue of Resource Recycling magazine. Subscribe today for access to all print content.
What began as an aspirational goal to create zero waste in Walmart's global operations has not only expanded into a total effort to drive a circular economy – it has also changed the way I approach my work as a Walmart store manager.
Let's start with the big picture. The world's population is expected to reach 9 billion people by 2050. With that, global waste is expected to grow as well – unless we change course. The World Bank estimated in a 2013 report that the world produced 3.5 million tons of solid waste per day in 2010 and projected that amount to almost double by 2025.
That's not only a lot of trash; it's a lot of lost value – as much as $2.7 trillion annually in raw materials. As a retailer, we are in the business of selling products, and those products have to be manufactured, packaged and shipped before being consumed. However, it's better for business and the environment when products are handled in the most efficient, sustainable way possible from creation to consumption.
By starting at the individual store level and working to then influence other stakeholders, Walmart is working to do its part to think about materials as an important resource to maximize.
Striving for zero waste by 2025
In 2016, Walmart set a specific goal to reach zero waste to landfill, meaning meeting or exceeding Zero Waste International Alliance requirements by 2025 in four key markets: Canada, Japan, the U.S. and the U.K. This goal relates to our aspiration to create zero waste in our operations that then-CEO Lee Scott set for our company in 2005.
We are focusing on three strategies to get us to our goal:
Eliminating waste in our own operations.
Working with suppliers to help reduce waste in the supply chain.
Helping customers that want to live a zero waste lifestyle.
By working with our associates, suppliers, customers, nonprofit organizations and others, we're drawing on our strengths – such as our stores and logistics, our focus on philanthropy and our connection to customers – to pursue practical initiatives that will start to build a more sustainable economy.
At my store in Flint, Mich., reducing waste is a priority – one that has made our operation one of the top-performing waste reduction Walmart stores in the U.S. It's become a part of the everyday routine for associates in the store, and the location's waste diversion rate is currently 83 percent.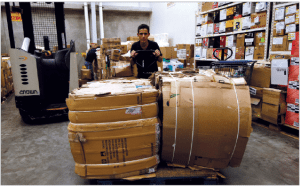 Cashiers recycle hangers and plastic bags, and employees divert cardboard, polystyrene and pallets using a specially compacted bale in which up to 32 different materials can be sandwiched between two cardboard outer layers. The combination of materials is smashed down to a block 9 to 18 inches thick with our store's compactor and then sent to recycling. At the same time, our backroom team sends damaged product back for liquidation when possible.
When it comes to food waste (my Flint store is a Supercenter location, which means there is a full grocery section), we rely on technology to help us manage our inventory, stocking our aisles based on customer's shopping patterns and purchases. We receive products "just in time" for our customers, greatly reducing expired product waste, especially for fresh products like produce and meat.
When we have unsold products, we work to match up them up with needs in the Flint community, working with local Good 360 organizations to help us distribute goods to people who need them.
In addition, our food team donates qualified food product two to three times a week through our long-standing ties with nonprofit organizations such as the Food Bank of Eastern Michigan and Feeding America. When products such as produce, meat, and bakery and deli items are no longer edible, we work with a vendor who picks up these perishables once a week to convert the material into animal feed, compost or energy.
Successful streamlining with suppliers
Still, we can only do so much at the retail level to reduce waste, and that's why Walmart also focuses on preventing waste before products reach the store. By working with the suppliers who make the products sold in stores, Walmart has found ways to help streamline and reduce waste before a product gets to a shelf.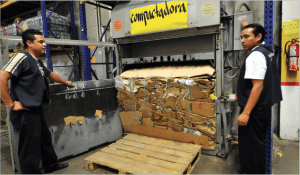 In the fall of 2016, we created a sustainable packaging playbook with best practices for improving and innovating packaging. The playbook focused on three areas: sourcing sustainably, optimizing design, and supporting recycling by putting easy-to-understand information on-pack.
When it comes to food waste, we encourage suppliers to use a standardized measurement to track volumes and work with food producers and growers to help them plant the right amount for our inventory needs, reducing excess production.
Our recently launched Project Gigaton is another example of reducing waste in the supply chain. Through this project, we invited our suppliers to join us in committing to reduce greenhouse gas emissions. One of the pillars they can commit to and set goals for is waste reduction. Areas they can target for improvement include general waste reduction in operations, food waste reduction in operations and value chain, and food waste reduction at the customer level.
Moving from the supply chain to the customers themselves, we see additional opportunities for action.
Walmart is now the world's largest grocer, and we help our customers prevent unnecessary disposal of food by working with suppliers to ensure labels better reflect product shelf life on all of our private-brand products. Currently, we're working to convert date labeling on all private-brand products from "Sell by" to "Best if used by" so it's easier to understand how long a product can be used before it actually needs to be discarded.
Further, we are working with our suppliers to encourage clear, on-package labeling that makes it easier for customers to know what can be recycled – one example of this is our support of the How2Recycle label from the Sustainable Packaging Coalition.
We're also increasing the number of trade-in programs we offer for hard-to-recycle items like smartphones, tablets and video games. So far we've collected more than 110,000 mobile phones and tablets through our U.S. store trade-in program.
Separately, the Walmart Foundation is investing in recycling infrastructure through the Closed Loop Fund to expand the availability of recycling facilities to more people, as well as investing in the Closed Loop Foundation, whose first round of grants supports projects to reduce food waste.
More than 3 billion pounds of food donated
Walmart and the Walmart Foundation are also using philanthropy to go even further to help address some of the world's toughest social and environmental challenges — including reduction of food waste and alleviation of hunger.
As mentioned earlier, when food goes unpurchased by consumers in our stores, Walmart maximizes its use by working with the food charity system, helping get it to the people and places that need it. Since 2005, our stores, clubs and distribution centers have donated 3.3 billion pounds of food to organizations such as Feeding America that distribute it to people in need in the U.S. – this number includes more than 600 million pounds donated last year.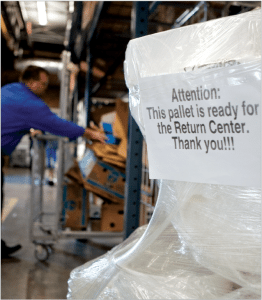 The Walmart Foundation focuses on creating system-level change in addressing hunger. The Foundation has donated funds to purchase equipment, such as refrigerated trucks to increase the capacity of the charitable meal system to distribute fresh food, whether it comes from Walmart or elsewhere. This helps people in need and also strengthens the broader waste management ecosystem by reducing the amount of edible food that is sent to landfills.
I'm proud to oversee a team of associates that are passionate about getting unsold food and products to people in need throughout our area. In 2017, our Flint-area stores donated 2.7 million pounds of food to the Food Bank of Eastern Michigan.
For us in Flint, Walmart made a separate impact on our community following the water contamination disaster in 2015. There was an influx of bottled water to the city from donors all over the country, including donations from Walmart. While this effort was needed and effective, it created an enormous recycling challenge.
To handle this onset of plastic materials, in early 2016, Walmart worked with a coalition of partners to provide more than 1,500 recycling bins to schools allow children to recycle plastic bottles.
That was a defining moment, not only for Walmart, but also for me. The community saw the strength and compassion our company has for doing what is right in the world. I was part of the team that helped go into the schools and set up the new recycling bins for teachers. It was an amazing experience.
Waste not: The journey continues
As a retailer, we understand we have a role in addressing the issue of global waste, so we will keep looking for ways to reuse or recycle materials from our stores in the most efficient way possible. According to an internal Walmart review, last year the company diverted 77 percent of materials that were previously considered waste from landfills in operations globally and 82 percent in the U.S.
We've been on this journey toward zero waste for more than a decade, but there is still work to do. We'll keep evaluating and improving our approach, calling on suppliers, associates and customers to think about waste reduction while celebrating the milestone achievements along the way.
Through the water contamination crisis in Flint, we have seen that when a community comes together, anything is possible. For me, every day is another day to make a difference, but I know I cannot do it without the help and support of the wider industry and my local community.
That statement likely rings true for everyone working in materials recovery.
Beth Harris is the manager of Walmart store 1928 in Flint, Mich. For more information on Walmart's waste reduction efforts, head to tinyurl.com/walmart-waste.