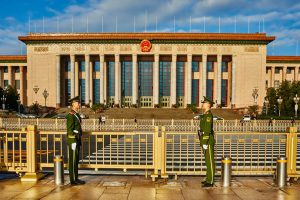 China is unprepared to effectively roll out and enforce its planned Jan. 1 ban on imports of certain recyclables, according to recycling leaders who recently traveled to the country in search of answers.
Chinese regulators are still struggling to determine what constitutes waste versus a usable resource, and the very agency tasked with inspecting incoming loads is unable to answer basic questions about the ban, Robin Wiener, president of the Institute of Scrap Recycling Industries (ISRI), and ISRI Chairman Mark Lewon wrote in an update to association membership.
"During our meetings it was clear that there is little understanding within the Chinese government of the chaos they have created," they wrote.
ISRI met with U.S. and Chinese government officials and scrap industry associations in China. From those discussions, a number of troubling points remain unclear, Wiener and Lewon said, and time is running low to narrow down the specifics.
They queried officials on the definition of "carried waste," which is often assumed to be synonymous with "contamination," as well as exactly which types of paper and plastic will be banned and the precise timing of these restrictions.
"For 'carried waste,' it is very clear they do not want imported trash, but are confused as to how to define what is trash and what is not," the ISRI leaders said. "Beyond that, the government does not know the answers to our questions, which included very specific examples of grades that are typically exported to China. Furthermore, they have not fully prepared for the implementation of the regulations, and we believe even more confusion and inconsistency is yet to come."
The confusion and unpreparedness is apparently driven by the speed at which the Chinese government is working to enact the import restrictions, Wiener and Lewon observed. Regulators within the Ministry of Environmental Protection (MEP) are being told to implement the new rules "as quickly as possible without the time and resources needed to get it right," according to the write-up.
Because of the speed and confusion, "the likelihood of individual inspectors at the ports understanding what they are inspecting – and what they are looking for – is very low," Wiener and Lewon said.
ISRI advised exporters to double down on quality control, document extensively the condition and contents of all shipments before they're sent, and be prepared for a greater number of rejected loads.
The organization also expressed concern that China's tightened import regulations could "set off a wave of copycat rules in other countries," and said that the industry must show its commitment to quality and differentiate itself from the problem activities that led to China's actions.
Resource Recycling has reached out to China's MEP for comment.
Actions and opinions
As Jan. 1 fast approaches, more voices are weighing in on the import restrictions, and the upstream impacts are growing. Here is a roundup of other recent developments:
Shipping disruptions: Regardless of how strictly the import restrictions are enforced, disruptions are already guaranteed. Hapag-Lloyd, the sixth-largest ocean carrier, announced it will not accept materials listed in China's import ban notification on shipments arriving in China after Dec. 31. Materials not listed in the ban, including certain scrap plastics and paper grades, would still be accepted.
Wider environmental goals: China continues to frame the restrictions as a core part of the country's environmental focus. Chinese Vice Premier Zhang Gaoli recently told an advisory group made up of experts from China and abroad that the country would bolster its recycling industry and "prohibit foreign garbage from entering the country" as part of "a new important plan for the construction of China's ecological civilization in the new era," according to  state news agency Xinhua.
Ban supporter fires back: The media coverage of the fallout in the U.S. recycling industry is drawing ire from supporters of the ban. "Most reports have focused on the difficult situation facing the U.S. recycling industries after China's decision," Chen Weihua wrote in an editorial for China Daily newspaper. "Almost none has delved into how much U.S. households have contributed to the severe pollution in China over the years by exporting such wastes and how average Americans should change their lifestyle to produce less waste for the sake of the planet."
Dispute at WTO: According to a news item from the World Trade Organization (WTO), the U.S. and other countries addressed the import restrictions at a recent WTO committee meeting. They "questioned the broad scope of the measure, and whether it applied to domestic operators in the same way as foreign operators," according to the WTO. The countries also asked for a delay of the implementation.
Domestic impacts: Jurisdictions across the U.S. are reeling from the impact. In recent weeks, a waste management agency in North Carolina began storing mixed-plastic bales on-site in trailers. A Colorado community's curbside system stopped accepting newspapers and began asking residents to separate PET and HDPE inside their bins. An Oregon city implemented a recycling fee to offset the revenue decrease from the loss of China as a downstream outlet. And a recycling center in Sitka, Alaska stopped accepting all mixed paper and plastics Nos. 3-7.
State groups react: The Iowa Recycling Association recently queried recycling companies and municipal programs across the state to gauge impacts from the overseas disruption, and it published the responses. Recycling associations in Oregon and Washington have held or are soon holding special forums on the issue. Other groups, such as MassRecycle, are incorporating the topic into their annual meetings.
More stories about exports