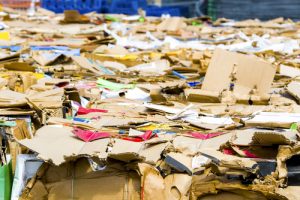 China officially announced last month that most inbound loads of recyclables will be allowed no more than 0.5 percent contamination, which is slightly less stringent than initial proposals. But industry executives recently noted that when it comes to recovered paper, that's largely a moot point.
"I don't think it matters," said Myles Cohen, president of recycling at Pratt Industries, referring to the new contamination limit. "0.3, 0.5, 1, 1.5 — the story is, mixed paper is still banned."
The ban Cohen referred to is the much-discussed prohibition on certain recovered materials, including mixed paper and some post-consumer plastics, that China is set to enact on Jan. 1. That policy is separate from the contamination limit, which will apply only to the materials not covered by the ban.
The new contamination limit was unveiled by China via a series of trade notifications with the World Trade Organization on Nov. 15. The 0.5 percent contamination standard represents a slight relaxation from the initially proposed 0.3 percent limit, but not by much. Currently, 1.5 percent is the official Chinese standard.
The 0.5 contaminant level will ostensibly apply to paper grades, such as OCC, newsprint and high grades, as well as to post-industrial plastic resins not specified in the ban.
That means those grades may still be able to move if they are clean enough, but it nonetheless leaves a massive downstream hole for mixed paper, a major exported material.
Jim Fagelson, vice president and cofounder of Newport CH International, discussed the issue at a recent meeting convened by the Association of Oregon Recyclers. Newport CH is one of the largest mixed paper export brokers in the country. Fagelson referenced figures for recovered paper generation and movement in 2016, noting that recovered paper represents an $8.5 billion annual market in the U.S. Roughly 60 percent stays in the country and 40 percent is exported each year, he added.
In 2016, 52.6 million tons of recovered paper were generated in the U.S., Fagelson said. Of that, 31 million tons went to U.S. mills and 21 million tons were exported. He said 14 million tons, or 27 percent of U.S. recovered paper generation, went to China.
On the mixed paper front, China imported 5.5 million short tons of mixed paper in 2016, Fagelson said, adding that more than 40 percent of that was U.S. mixed paper.
"Regardless of the contamination or prohibitive level that they're going to allow, the second biggest thing that they imported into the country in terms of paper was mixed paper, and that's still banned," Cohen said.
Pratt Industries, Cohen's employer, runs four recycled content paper mills and 16 MRFs and recycling centers across the country, and is among the largest consumers of mixed paper in the U.S. According to Cohen, the effects of China's proposed import policies in recent months is starting to have effects on the domestic market for recovered fiber.
He said Pratt Industries is handling less contamination than it used to, as it's being removed before coming to the mill.
"MRFs who were previously exporting their paper and can't export it now … have to make it as pristine and clean as possible, because there's plenty of supply on the market right now," Cohen said. "MRFs who sell to us are working hard to make sure they take [contaminants] out and send it to the landfill."
Observers have also forecast the ban would create more domestic demand for recovered materials, as companies look for alternative downstream outlets for collected material. Here, too, Pratt's experience seems to indicate that is beginning to ramp up.
"We are getting a lot of requests from people that we used to not hear from as much about helping them out with the movement of their material," Cohen said.
"There's quite a few recyclers out there who got sort of hooked on the export market and the strength of that," he added. "I think this has sort of been a learning experience for a lot of people, that you must have strong domestic partners for a certain percentage of your material."
More stories about exports