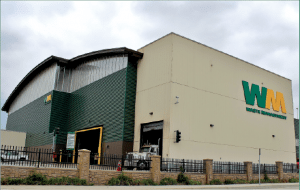 The state of California's goal is to achieve a 75 percent recycling and composting rate by 2020. That big goal is what partially drove Waste Management to build a big MRF in the Los Angeles area.
"The Azusa MRF is one of only a handful of facilities in the U.S. that are comparable in size," according to a Waste Management press release. "It was developed, in part, to help the local population achieve a high diversion goal that's being mandated by the state government."
The 150,000-square-foot facility, described as the largest of its kind in the region, is owned and operated by Waste Management, the nation's largest garbage and recycling hauler and MRF operator. Waste Management is publicly traded.
It's a combined MRF/transfer station located on the site of a closed landfill in Azusa, a Los Angeles county jurisdiction just east of the city of Los Angeles. The MRF/transfer station was the product of five years of planning, permitting and construction, according to the press release.
The MRF sorts about 185,000 tons of single-stream recyclables and cleans contamination out of about 25,000 tons of organic material per year. It receives recyclables from 55 different communities, all with single-stream collections. Commercial material is not handled on the site.
The facility's single-stream equipment includes screens, magnets, eddy current separators, a glass breaker and optical sorters targeting plastics. It was provided by Netherlands-based Bollegraaf Recycling Solutions.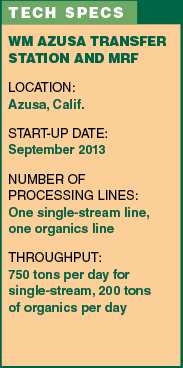 The green waste line, which focuses on sizing and removing contamination from source-separated organics, was provided by San Diego-based CP Manufacturing. If the non-organic contamination appears to be 1 percent or less, the material is sent straight to a grinder for sizing.
Green waste with 1 percent to 40 percent contamination goes to a sorting line to remove it, using both manual sorters and equipment, before it's sent to the grinder. Prepared material is stored in an overhead hopper capable of holding 29 tons before it's loaded into outbound trucks.
All sorting at the facility occurs within a four-sided structure outfitted with a negative pressure system to contain emissions and dust. The building itself was made with recycled materials, and 75 percent of the construction and demolition debris generated when it was built was recycled. The facility includes an observation room for educational tours and meetings.
Peter Branda, the MRF manager, said the biggest issue the facility is dealing with is plastic bags and bulky contaminants.
The WM Azusa Transfer Station and MRF employs 120 people on two shifts.
This article originally appeared in the November 2017 issue of Resource Recycling. Subscribe today for access to all print content.