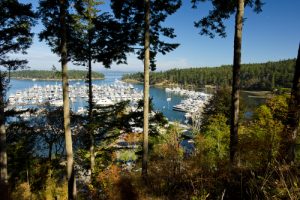 Municipal programs in the Pacific Northwest continue to feel the impacts of China's import restrictions, and multiple local programs are halting acceptance of certain materials in response.
A transfer station on Washington's San Juan Island has stopped accepting glass, plastics and mixed paper in the face of China's scrap policy changes. With no downstream for those materials, recycling officials say they will be landfilled for the time being. The drop-off station will continue to accept clean cardboard, metals and wood.
The station is operated by private contractor Lautenbach Industries, which made the decision after its downstream buyer, Recology in Seattle, said it would stop accepting the material.
The change affects drop-off recycling across the island, which has a population of about 7,000, as well as curbside recycling within the town of Friday Harbor, according to the release. Curbside recycling in Friday Harbor will likely end in about a month.
In Lane County, Ore., officials announced last week that county transfer stations would stop accepting any plastic containers, except milk jugs. A large buyer, International Paper, recently informed the county it would stop accepting plastic containers.
State officials in Oregon are granting exemptions to the state's landfill ban on recyclables. A memo from the state's Department of Environmental Quality explains companies and MRFs must make good-faith efforts to locate alternative markets before landfilling materials.
"When all options to find markets for recyclable commodities have been exhausted, DEQ concurs that landfilling these materials on a temporary basis is an unfortunate but needed option at this time," according to the memo.
More stories about markets