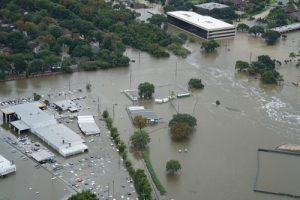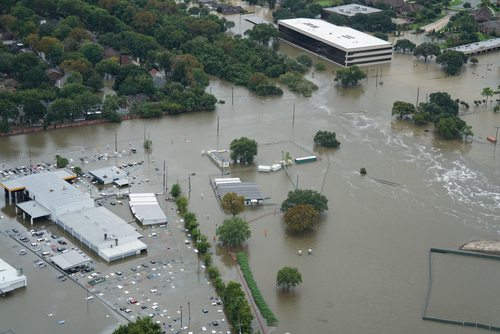 When it made landfall on Aug. 25, Hurricane Harvey became the wettest tropical cyclone to ever hit the U.S., dumping more than five feet of water on Houston. The resulting floods have impacted the recycling industry in multiple ways, driving up prices for virgin plastics, hampering freight systems and halting curbside collections.
Following is a summary of some of the lingering effects of Harvey and its successor, Hurricane Irma, on the recycling industry:
Prices rise: Prices for virgin PE, PP and PS have all increased since Sept. 1, as a result of post-Hurricane Harvey disruptions, Plastics News reported on Oct. 2. PE prices are up an average of 4 cents per pound, PP 7 cents per pound and PS 3 cents per pound. While most production has restarted since the hurricane struck in late August, plastics makers are still dealing with difficulties sourcing feedstock and dealing with freight disruptions for delivering their products.
Polyethylene prices: As of Sept. 19, about 10 percent of the U.S. capacity to make ethylene, a key ingredient in plastic, remained offline. Global research firm IHS Markit reported that, in addition to impacts to PE feedstock, at least two PE producers have announced their intent to increase resin prices by 3 cents per pound starting Oct. 15, according to the firm. The increase is in addition to the 4-cent increase that's currently pending.
Polypropylene impacts: IHS Markit noted that all PP plants affected by Harvey are now up and running, although railcar delivery times are 50 percent longer for some buyers. Prices for spot resin have spiked 15 to 20 cents per pound over pre-storm levels, but they're expected to decline in the fourth quarter when supply normalizes. Contract market prices showed an increase of 6 to 8 cents per pound in September.
Ripples affect PET: Additionally, the IHS Markit update reported that while Hurricane Irma didn't directly affect units producing PET and PTA, they're incurring additional expenses to get deliveries of feedstock, mostly because of supply chain logistics problems. The industry has announced a PET price increase of 6 to 7 cents per pound in anticipation.
Supply shortages: While the recycling industry has been bracing for price impacts resulting from a boost in virgin PE supply driven by cheap fossil fuel feedstocks, the production capacity growth hasn't been as great for PP. As a result, Plastics News reports, shortages are more acute for PP. An expert predicted virgin PP prices might increase through the end of the year, as a result of Harvey.
Trucking costs: Harvey and the subsequent Hurricane Irma, which hit Florida, are likely to drive higher truck transportation costs for months, American Metal Market reports. One analyst said he expects trucking rate markups to last until July 2018, because any moderation of prices following the aftermath of the hurricanes will likely coincide with the ramp-up of the construction season early next year.
Skyrocketing freight charges: Kevin Dillon of electronics recycling and reuse company ERI said freight costs have increased 500 percent to 800 percent as a result of the multiple hurricanes. Dillon was speaking during the 2017 E-Scrap conference, which was held Sept. 18-20 in Orlando, Fla.
Plastics reclaimers: Plastics recycling companies were directly affected by the disaster in the Houston area. The opening of Avangard Innovative's new $10 million LDPE recycling plant was delayed by the disaster, and several company employees had to be rescued from their homes by boat, Plastics News reported. The journal also reported that plastics reclaimer Birch Plastics opened its warehouse to more than two dozens of its neighbors who were displaced by flooding.
Relief donation: Immediately after the storm hit, Houston-headquartered Waste Management announced it was giving a $3 million donation to help with relief efforts, according to CNBC. The storm shut down Waste Management's recycling facilities, but it was communicating with Waste Connections and Republic Services about which disposal facilities remained available.
Curbside service suspended: The City of Houston, America's fourth-largest city, has suspended all collection of curbside recyclables and organics while it concentrates on garbage and disaster debris removal. The city's Solid Waste Management Department said residents can still drop off recyclables at one of several locations.
More stories about markets