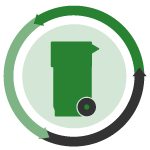 A local program practicing source separation describes its low-contamination advantage in light of Chinese import restrictions, and Orlando, Fla. is chosen as the site of a diversion-driving pilot project.
New offering: A packaging producer has released a new labeling material made with 100 percent recycled fiber content. In a press release, Avery Dennison describes its new product as being manufactured without chlorine bleaching and providing similar qualities such as opacity and whiteness as its virgin-content counterparts.
Sorting advantage: Communities with source-separation programs generally yield lower contamination rates than those with single-stream recycling services, and some local programs are taking note of the advantage in light of China's crackdowns. The Jackson Hole News & Guide reports officials in Teton County, Wyo., which has a 1 percent contamination rate, say they're not experiencing as much difficulty as other programs amid China's import restrictions.
Florida first: Business leaders looking to drive national diversion above its current 34 percent range have selected Orlando, Fla. as the site of their pilot project. In a press release, the U.S. Chamber of Commerce Foundation writes Orlando was chosen due to its "high degree of readiness for recycling and reuse system development, community engagement, project partners and key relationships."
Container-towing lawsuit: A Texas judge has sided with Rubicon Global and issued a temporary restraining order against Waste Connections in a case over handling of containers when a company switches to a service provider offered through Rubicon. Waste Dive reports the ruling requires Waste Connections to remove collection containers from the property of former customers. The containers were initially towed by Rubicon but later returned by Waste Connections, according to Waste Dive.
Packaging positives: The Oregon Department of Environmental Quality has published the results of studies on the environmental impacts of various foods, as well as packaging waste and food waste. Among other findings, the packaging report described how increased packaging can sometimes reduce the overall environmental impact of food items if it prevents food waste.