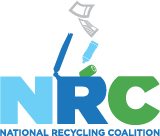 The National Recycling Coalition made a handful of important announcements during the Resource Recycling Conference in Minneapolis last week.
The NRC announced it has hired Marjie Griek as its executive director, marking the first time in nearly a decade that position has been filled. Griek is a former executive director of the Colorado Association for Recycling, as well as the former chair of Recycling Organizations of North America.
"For the near term, we definitely want to strengthen our financial foundation," Griek told Resource Recycling. "We want to look at expanding current programs, working with very closely with affiliate state recycling organizations, and really building relationships with other organizations."
In addition, a handful of NRC board members left their seats, and new members were elected to replace them. The following members were elected to serve three-year terms:
Mick Barry, president, Mid America Recycling and managing partner of M2B2
Barbara Eckstrom, director of recycling and materials management, Tompkins County, N.Y.
Wayne Gjerde, recycling market development coordinator, Minnesota Pollution Control Agency
Susan Gordon, environmental program manager (waste reduction and recycling), City of Fort Collins, Colo.
Leslie Lukacs, director of zero waste, SCS Engineers
Kerrin O'Brien, executive director, Michigan Recycling Coalition
Sarah Pierpont, executive director, New Mexico Recycling Coalition
Charlotte Pitt, manager, City and County of Denver
Antonio "Tony" Rios, executive director/president, Puerto Rico Solid Waste Authority/ Coalición de Reciclaje de Puerto Rico
Justin Stockdale, regional director, Pennsylvania Resources Council
More information about the composition of the board is available from the NRC.
The NRC also announced the winners of its 2017 awards, which are as follows:
Outstanding Business Leadership For-Profit Company: Avaya Stadium (San José, Calif.)
Outstanding Not-for-Profit Business Leadership: Cooperative Teamwork & Recycling Assistance (Austin, Texas)
Outstanding Recycling Organization: Michigan Recycling Coalition
Outstanding Higher Education: University of Florida
Outstanding Community or Government Program: South Central Solid Waste Authority (Las Cruces, N.M.)
Bill Heenan Emerging Leader: Samantha Yager, recycling coordinator for the City of Columbia, S.C. and Tori Carle, recycling educator, City of Greensboro, N.C.
Lifetime Achievement in Recycling: Arthur Boone
Finally, the NRC announced it has established a task force pertaining to waste management issues in the wake of Hurricane Harvey. The task force has called for local government officials to ensure environmentally responsible disposal of debris left in the wake of the hurricane.
More stories about industry groups