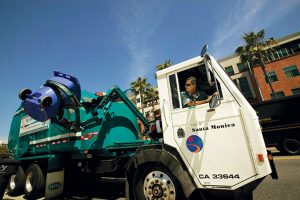 It's known for its laid back surfing and skating culture, but Santa Monica, Calif. has been serious when it comes to recycling.
The Southern California community, which started its program 26 years ago, has notched a 79 percent diversion rate. And it's pushing for 95 percent by 2030. That lofty goal is one component of a wider sustainability strategy Santa Monica has adopted to reduce its environmental impact.
But the coastal community is surrounded by Los Angeles on three sides and draws millions of tourists each year, which means it also faces some daunting outreach and education challenges when it comes to pushing for further diversion.
City hauls all streams
Recycling in Santa Monica dates back to 1991, when leaders divided the city into more than 100 recycling zones and deposit points were established in each neighborhood. Back in the early days, Santa Monica followed a source-separation model with residents sorting newspaper, plastics, metals and glass.
Single-family homes separated each material into buckets, which recycling truck drivers would collect by hand. In 1999, the recycling trucks became automated and the program switched to blue recycling containers, with the recycling zones still in place. Four years later, the municipality switched to a single-stream program, which is the mechanism in place today.
The recycling zones, however, were eliminated in favor of city-operated collection from all properties. Now, employees of the Public Works Department collect recyclables from all single-family homes, multi-family buildings and commercial businesses.
"It's kind of a unique structure," acknowledged Chanel Kincaid, zero waste coordinator for the city.
Residents receive curbside carts that accept plastics Nos. 1-5 and 7, as well as aluminum, glass, paper, cardboard and even bundled plastic bags. Recycling is collected weekly and is funded through the utility fees residents pay for garbage collection. Recyclables are transported directly to a MRF in the area while compost and waste go to a transfer station.
Influx challenges lead to innovative thinking
The program has encountered some difficulties. Outreach, in particular, poses problems due to the city's popularity as a tourist attraction and economic center. The city's contamination rate runs an average of 17.5 percent, taking all the streams into account.
Santa Monica has about 50,000 households, three-quarters of which are designated as multi-family. All told, nearly 93,000 people live in the city – but that doesn't tell the whole story as far as recycling collection goes. Thousands of people commute into Santa Monica for work each day, and even more come to visit.
Public education is tackled through a broad range of platforms. The city sends a quarterly newsletter, posts social media updates, publishes an e-newsletter and hosts monthly waste reduction events. It also dispatches "Curby," the city's recycling mascot, to community events.
"We try to make it fun for the residents, and also informational," Kincaid explained.
And then there's the Santa Monica Pier, which brings in millions of visitors and tourists each year. This means a lot of attendees who don't know the city's recycling rules and could damage diversion through contamination.
"The pier is tricky, to be honest," Kincaid said. Collection is problematic as many trucks can't drive directly onto the pier, so materials must be transported back to the shore using other means.
Kincaid said the city is working to come up with innovative methods of recovery, given the location constraints and high traffic.
"To meet our diversion goals we need to get that material and divert as much as possible," she said.
Off the pier, organics recovery is an area of particular focus in multiple pilot programs, since more than 40 percent of the material being landfilled is organics, Kincaid said.
One pilot program, titled "To Rot or Not," was based on a wet-dry program but aimed to recover a cleaner organics stream than what is usually generated by a mixed-waste collection. Another initiative is a multi-family organics collection pilot program and includes establishing resident liaisons who will have a role in managing the programs for the buildings they live in.
Local ordinances
California often leads the way in regulation, imposing restrictions and bans that eventually work their way into laws in other states and municipalities. But within California there are cities that are early adopters of ordinances that are later widened into state laws. Santa Monica was among the early implementers of a polystyrene (PS) food-service packaging ban, which was passed in 2007, the same year San Francisco and Oakland adopted similar measures.
Santa Monica was early in implementing a wider sustainability plan as well, bringing one into effect in 1994. The plan sets sustainability benchmarks, some of which are recycling-related, that the city will strive to hit by certain dates. Right now, the plan aims for 85 percent diversion by 2020.
More recently, the city has enacted a solid-waste-specific zero waste plan, which aims for 95 percent diversion by 2030. The effort is multi-pronged, touching on reuse, outreach, extended producer responsibility, the EPA waste management hierarchy and more.
This article originally appeared in the August issue of Resource Recycling. Subscribe today for access to all print content.