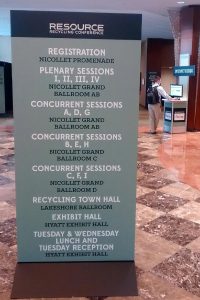 This year's Resource Recycling Conference is providing much-needed insight on a range of critical recycling issues. And on the event's first day, the National Recycling Coalition named its new executive director.
Resource Recycling Conference 2017, which kicked off yesterday with a series of workshops and other events, has been produced in partnership and alliance with key groups in the industry: the National Recycling Coalition (NRC), the Recycling Association of Minnesota (RAM), the Minnesota chapter of the Solid Waste Association of North America (SWANA), Waste360 and BioCycle.
This year's conference has drawn over 500 people from across North America, a number of whom were able to join the industry conversation as a result of collaboration. With support from nine different funders, The Recycling Partnership provided grants to attend the conference to 53 people, up from 10 the year before.
The big news from the first day also involved one of the groups central to the 2017 conference. In its annual members meeting, the NRC announced that Marjie Griek would be assuming the role of executive director for the group. The role is a paid position, and Griek's appointment marks the first time in nearly a decade that NRC has had an executive director. She formerly served as executive director of the Colorado Association for Recycling for 14 years.
"The NRC board has realized for a little while that having an executive director would be inspirational and would help the organization grow," Griek said in an interview. "It's so hard when everyone is volunteering. People have other things that they are being paid to. With a paid executive director, you have someone who is paid to pay attention, fund-raise and expand programming."
Industry addressing issues
Over the next two days, additional important decisions and discussions will take place in Minneapolis. The setting for this year's Resource Recycling Conference is a city of more than 400,000 people that has pushed hard for sustainability. For example, last year, it expanded curbside organics collection to all households city wide.
Inside the Hyatt Regency Minneapolis, the host hotel for this year's conference, experts from around North America are addressing some of the challenges facing the industry.
For instance, many programs continue to struggle managing contamination and the evolving ton. During the conference's opening plenary this morning, attendees will hear from leaders at Closed Loop Partners, The Recycling Partnership and Keep America Beautiful, three nonprofit groups that are taking action to improve recycling programs in the U.S. today.
With fluctuating commodity prices and China's impending ban on some recovered materials looming, the conference's second session on commodities markets will be especially timely. It's set to feature speakers from the Institute of Scrap Recycling Industries (ISRI), More Recycling and WestRock discussing pricing for plastics, metals and fibers now and in the future.
On Wednesday, the opening plenary will provide tools and tricks that programs can use to improve recycling in their jurisdictions. Speakers from Hamilton County, Ohio; Emmet County, Mich.; North Carolina state government; and the City of Atlanta will share their experiences.
The conference will close with a plenary exploring recycling-related policy changes at the very top: the federal government. U.S. Democratic Rep. Keith Ellison of Minnesota's 5th Congressional District and Barnes Johnson of the U.S. EPA will speak on how U.S. political shifts may impact recycling.
Outside of the plenaries are a host of detailed concurrent sessions, many organized by partners and allies, exploring a range of crucial industry topics.
Resource Recycling Conference 2018 is slated for Oct. 22-24 at the Hyatt Regency at the Arch in St. Louis.
More stories about industry groups