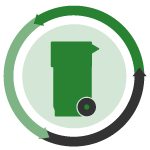 A lawsuit fails to stop a transition from dual-stream to single-stream collection in a city on Long Island, and a markets expert outlines some challenges that cartons bring to local recycling programs.
Carton challenges: Carton packaging continues to grow as a portion of the residential recycling stream, and that trend brings new challenges. In an analysis for the Continuous Improvement Fund, Sherry Arcaro of Recyclable Materials Marketing writes about how gable-top cartons and aseptic packaging are treated in MRFs and the downstream outlets that exist for their bales.
Single-stream strife: Legal action has failed to stop a New York municipality from pushing toward single-stream recycling. Newsday newspaper reports that Oyster Bay, N.Y.'s existing paper hauler under the current dual-stream system sued the city to stop officials from opening up bids for single-stream collection. The hauler claimed the city used the wrong process to solicit bids, but a judge ultimately denied the motion.
Outreach effort: Rhode Island recycling officials have launched a public education campaign to reduce contamination. According to Rhode Island Public Radio, the outreach comes after an uptick in the number of contaminated loads, and it will include radio, billboard and social media advertisements. Last month, the state mailed bilingual recycling guides to 390,000 households.
Foil-to-fuel: Scientists have identified a possible future downstream outlet for contaminated aluminum foil. Mental Floss writes about a method of transforming food-soiled aluminum foil into "pure aluminum salt crystals," which can be converted into a catalyst to make biofuel.
Cash contamination: Lots of bizarre objects come down the sort line in the MRF, but a safe containing $20,000 took contamination to a valuable new level in Minnesota last week. Fox 9 TV news reports Republic Services workers in Inver Grove Heights, Minn. turned the cut-open safe into authorities, who traced it to a recent grocery store burglary. The thieves took $10,000 from the safe, but apparently hadn't noticed the $20,000 that remained.
Cart cleaning: A business that cleans recycling and garbage bins and carts is experiencing success in Texas. According to financial media outlet Benzinga, Dallas-based GLEAM Bin Cleaning & Pressure Washing Services uses high-pressure water at 200 degrees to wash bacteria out of garbage and recycling receptacles and is quickly expanding to serve all of north Texas.
Deposit compliance: Oregon officials have fined a retailer $80,000 for failing to comply with the state's container deposit law requirements. According to an Oregon Liquor Control Commission (OLCC) press release, 25 Walgreens stores did not participate in a redemption center program or provide equivalent container return services. The fine is the first ever levied for a container deposit violation, according to the OLCC, as other cases have been settled through education.
Texas spectacle: A consultant working on behalf of a company that claims it was shut out of the bidding process for recycling service in Houston has sued the city after officials withheld certain records, the Texas Monitor reports. The suit is the latest bit of drama surrounding Houston's contract to sort and sells curbside recyclables. The mayor initially announced the selection of FCC Environmental Services before resistance from city council members prompted him to conduct another round of bidding.