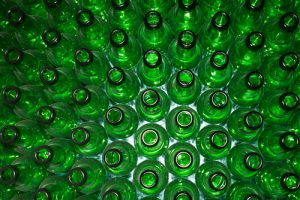 A group that leverages corporate dollars to improve municipal recycling has backed a Pennsylvania glass aggregate manufacturer, part of an effort to bolster buyers of curbside recyclables.
To date, most the Closed Loop Fund's projects have focused on expanding municipal recycling programs or pushing forward sorting facilities.
But this year marks a new phase for the $100 million recycling infrastructure investment vehicle, which is funded by some of the largest brand owners in the U.S. In recent months, the Closed Loop Fund (CLF) has expanded into the end-market development realm through multiple investments.
Early this month, CLF announced its investment in IntegriCo Composites, a manufacturer of plastic composite railroad ties. Resource Recycling has also learned Aero Aggregates, a U.S. company creating construction materials out of recycled glass, received a capital boost from the CLF earlier this year. Aero is a consumer of curbside glass, a material that has been difficult for some U.S. programs to cost-effectively move to market.
CLF and Aero are not detailing the specifics of their deal, but Bridget Croke, head of external affairs for CLF, said the new area of investment fits squarely into the purpose behind the fund.
"Investing in manufacturing companies that are building end markets for recyclables and creating regional jobs is all well within the scope of what we do," Croke said in an interview.
CLF also recently announced it will provide a $3 million loan to GreenMantra Technologies, a Canadian company recycling plastics into wax products. The money will help it boost its production capacity.
Construction market
Aero Aggregates is an Eddystone, Pa.-based manufacturer producing a foamed glass aggregate product, which has applications as lightweight fill for highways, bridge abutments, retaining walls, foundations and other building projects.
The company sources its glass feedstock from the Mid-Atlantic region, company president Thomas McGrath said. All of the material comes from municipal recycling programs.
"We are currently using in excess of 12,000 tons per year with plans to significantly increase our production capacity and glass use," McGrath said in a statement.
The crushed recycled glass comes into the manufacturing plant and is mixed with a foaming agent, according to the company. Once mixed, the powder is heated in a kiln, where the glass softens and bubbles form inside it. The material emerges as the foamed aggregate product, which Aero describes as just 15 percent the weight of its traditional counterparts.
Aero fits the bill
Aero's product stood out as a promising investment for a few reasons. CLF likes the longevity of the aggregate product, Croke said. The aggregate can also take a fair amount of contamination in its feedstock, which stood out to CLF.
The aggregate presents an alternative nationwide market for recovered glass, compared with bottle production, which is limited geographically.
"This can be a really distributed model of an end market for mixed glass that would be incredibly helpful for [materials recovery facility] that are looking to add value to their bale," Croke said.
The parties declined to release the dollar figure of CLF's loan to Aero, but Croke noted CLF's investment would cover 25 percent of funding needed for Aero to scale up production.
Glass prognosis
It's no coincidence CLF chose a glass venture as one of its initial end-market investments. The organization has worked to raise the profile of the problems glass can cause in the recycling stream and the solutions available to boost glass recovery. The Closed Loop Foundation, which is associated with the fund, released a study in April quantifying glass costs for MRFs.
"It's going to take investment to get glass where it needs to be in terms of making it economically viable," Croke said. "Because today, certainly, we're all seeing that cities are continuously questioning whether they're going to keep it in the stream."
CLF says investing in end-market development is currently the most important avenue  for lifting glass recovery. The fund's strategy for glass is to increase value before tackling collection and sortation, because it's easier to sell a municipal program or MRF on making an investment if the economics make sense.
"If the dollars aren't there, no one's going to invest in the updated infrastructure in MRFs, and municipalities aren't going to think about collecting it," Croke explained. "It all comes down from the value."
Ellen Martin of Closed Loop Partners will speak about opportunities for glass recovery at the Resource Recycling Conference this month. Ron Gonen, CEO of the Closed Loop Fund, will speak in the opening session of the conference.
More stories about glass