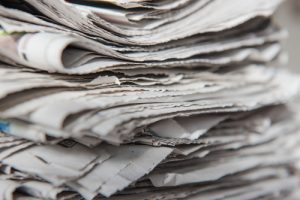 Newspaper publishers in British Columbia have submitted a plan aimed at bringing them into compliance with the Canadian province's extended producer responsibility regulations.
The plan would have newspaper publishers offer free ad space to government agencies in lieu of payment. Public agencies would then pay the newspapers' stewardship payments to Recycle BC, the producer-funded stewardship organization for packaging and printed paper (PPP), using the money saved by not paying for ads.
The plan was prepared by the British Columbia members of the newspaper industry association News Media Canada.
News Media Canada acknowledges this is "somewhat of a unique approach to paying for stewardship collection services," but says it will serve as a fair mechanism for bringing newspapers into compliance.
British Columbia, home to the Vancouver metropolitan area, enacted extended producer responsibility (EPR) for PPP in 2011. Newspaper is included as a covered product, alongside any other materials that use text and graphics to communicate information, with the exception of most books.
Under the plan submitted by News Media Canada, each newspaper will be assigned a cost responsibility based on the amount of newsprint it consumes – the 2017 fee schedule indicates a cost of 11 Canadian cents per kilogram of paper – and they would provide government agencies with an equivalent amount of advertising. According to the plan, neither the government nor other producers will be subsidizing the newspapers under this arrangement.
Producers were required to be operating with an approved stewardship plan to pay for collection of their products within three years of the regulation taking effect. Multi-Material BC (recently renamed Recycle BC), began collecting PPP and receiving payments from most producers in 2014.
But the newspaper industry has not been paying the group. News Media Canada criticized the stewardship group, stating Recycle BC's fees of $200 per ton were far more than in other provinces' programs. One publisher told the Nelson Star newspaper he would have to shut down several of his small local papers to pay his share.
The newspaper association pointed to other provinces that allow newspapers to offer free advertising in lieu of stewardship payments, but Recycle BC said that arrangement would leave other producers subsidizing the newspaper industry.
Recycle BC in 2016 identified newspaper producers as serious and expensive violators of the EPR requirements. An audit found "underfunded costs to MMBC of recycling newspapers are approximately $3 to $5 million per year."
A spokeswoman for the Ministry of Environment said an independent review of the plan begins once the complete proposal is submitted, and that "every effort is made to ensure an expedited review."
Recycle BC officials could not be reached for comment by Resource Recycling by press time.
More stories about EPR/stewardship