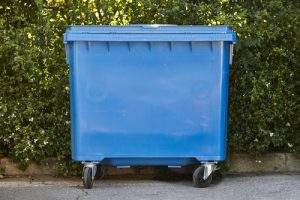 The mayor of a Pennsylvania city is being charged with violating county recycling and solid waste laws after he contaminated a collection bin. He could be facing a fine or months of community service.
Anthony Mastrangelo, 81, mayor of New Castle, Pa., said he placed a broken cat carrier in a public collection bin, thinking it was accepted in the bin because it's plastic, according to the New Castle News. The county issued a summons and is accusing him of putting a suitcase in a bin (he insists it was a cat carrier, not a suitcase).
If found guilty, he could be sentenced to up to four months community service, the newspaper reports.
Mastrangelo, who has been mayor for a decade, placed the item in a public recycling bin near the Lawrence County jail. An official at the sheriff's office told the New Castle News the site is under constant surveillance by video cameras to identify offenders dumping items and contaminating recycling bins. Several other people have been cited on similar charges.
Population 22,000, New Castle is located about 50 miles north of Pittsburgh.
More stories about contamination