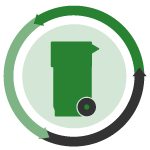 An Iowa county reports higher participation one year after switching to single-stream collection, and the impact of China's informal recycling collection sector is studied.
Paying off: A year after the Closed Loop Fund invested substantial capital in helping Davenport, Iowa switch to single-stream recycling, the local waste commission has released some impressive numbers. The Quad-City Times reports that total tonnage collected from residents across Scott County, Iowa is up 20,000 tons over the previous year, while participation has jumped to 82 percent, a large boost from the 2013 figures of between 48 and 56 percent.
Facility fire: Meanwhile in Iowa, fire crews from seven Hawkeye State communities fought a two-day blaze over the past weekend in the paper-bale warehouse at the International Paper recycled paperboard mill in Cedar Rapids. The Gazette newspaper reports the cause is still under investigation.
Veto power: Pennsylvania's governor has vetoed legislation that prohibits local governments from enacting plastic bag bans or fees, according to The Philadelphia Inquirer. Gov. Tom Wolf previously vowed to veto the legislation, citing concerns over limiting local control and constitutionality.
Cutting costs: Recycling officials in the small community of Tyler, Texas are working to explain why free curbside recycling collection does not pencil out. The Tyler Morning Telegraph reports a petition is asking the city to eliminate the $2.50 monthly charge for recycling collection, stating it would increase convenience and recycling usage. But the city's recycling program ran some numbers and determined free collection would simply not work economically.
Fresh Kills roots: Staten Island, N.Y. native Gregory Lettieri is an example of how a person's surrounding environment can impact their direction in life. In a profile story, SILive.com describes how Lettieri grew up next to Fresh Kills Landfill and went on to found Recycle Track Systems (RTS) this year. RTS provides a smartphone app that allows customers to request on-demand collection of recycling, organics and other materials.
Informal players: As Chinese cities have grown and the country has seen increasing economic development and spending, the amount of waste generated has risen faster than domestic collection infrastructure can handle. In light of this trend, sustainability consultant Collective Responsibility provides a detailed look at the country's informal recycling collection sector, which plays an important role in filling the infrastructure gap.
Container contention: The beverage industry is funding efforts to persuade Connecticut lawmakers against reviving expansions to the state's container deposit law. The Associated Press writes that a coalition called "Keep CT Affordable," backed by beverage giants, is opposing any handling fee increases, new beverage additions and a statewide excise tax on sugary drinks.
Combating contamination: The City of Toronto is attempting a pilot project to reduce its expensive contamination problem, using tags to mark bins that appear at least 25 percent contaminated. According to The Globe and Mail, the city is hoping to cut down on the 5 million Canadian dollars ($3.88 million) per year spent separating contamination from recyclables, an amount equal to one quarter of the revenue the city generates from sales of recovered commodities. Toronto's housing stock includes a high percentage of multi-family properties.