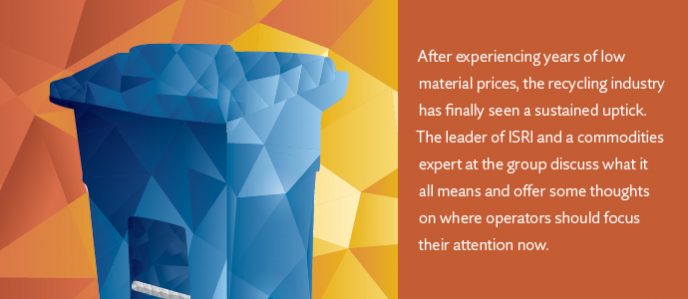 This story originally appeared in the May 2017 issue of Resource Recycling. Subscribe today for access to all print content.
With rising prices for recovered commodities, a growing sense of optimism has emerged in the recycling industry – and a sense of relief, since the recent downturn was so prolonged.
That's according to Robin Wiener, president of the Institute of Scrap Recycling Industries (ISRI). Resource Recycling sat down to talk with Wiener and Bernie Lee, ISRI's commodities research analyst, at the Plastics Recycling 2017 conference, held this March in New Orleans.
The discussion explored recycling markets, particularly for plastics, as well as the issue of safety at recycling operations, which has emerged as a critical talking point for ISRI and other industry associations.
We've heard a lot about price struggles for many commodities over the past several years. What's the current status of prices – and for recycled plastics specifically?
Robin Wiener: Certainly the markets have been much stronger than they have been in the past. They're on their way up.
Bernie Lee: In the plastic scrap market, the pricing has been improving, particularly for PET plastics and for nylon fibers. … A lot of new polymer science is coming in, and we have a lot of new export markets, particularly in Latin America and Southeast Asia. There's a lot of promise for growth in that area, especially since China's volume and demand has gone down a bit.
In the wake of the price slump, do you have a sense of how much pain was caused within the industry?
Wiener: I don't know that anyone has quantified exactly what the impact on the industry was, but certainly it was one of the most prolonged periods. I mean, I've been with ISRI and the industry since 1989, and it is a cyclical industry in all the commodities. And although the cycle may vary by commodity and they don't always line up, it is cyclical. We have unfortunate down periods but they're followed by up cycles.
This was probably the longest down cycle I had seen. It definitely was prolonged and … there were a lot of companies that went out of business – and a lot of businesses that had been in operation for many generations. So it was a very painful period for the industry.
Where do you see prices maybe six months or a year from now?
Wiener: We ourselves don't predict, but to the extent that there has been any independent forecasts made that we can pass on, we can do that.
Lee: IHS Markit has been doing a lot [of price analysis] in the polyolefins sector, and some of their forecasts are promising in terms of seeing an uptick. I think that the confusing part that has a lot of people kind of at odds with what's going on is that there's oftentimes a difference between price and volume.
You can sell the same amount of tonnage and all of a sudden see your prices drop and your profits are going down as a result. Or because prices spike, you're selling less and you're living high on the hog. So that kind of fluctuation [in plastics] makes future price predictions very difficult, especially since the margins on it are very small comparatively to other scrap commodities and since oil prices are fluctuating. Plastic material has more market forces bearing down on it than you'd normally expect from other commodities.
Are there any particular plastic resins that are showing particular promise for healthy demand in the future?
Lee: It's regionally based. PET plastics seem to be on the rise in a lot of places. India had stopped a lot of their imports of scrap plastics, but they did open up for PET plastics, so that becomes a big market for them. … Regions in the Southeast U.S. are finding renewed hope in nylon fiber. And sometimes it depends on what they're trying to get. Nylon fiber is often found in carpet, and they're getting the [end market] help there. I think film is promising, styrenes have grown a lot, but both of them are done in such small volumes that it's hard to say, "This is going to be something that's profitable."
Are you sensing more optimism among ISRI members for where the markets are going for recyclables in general?
Wiener: Absolutely, yes. There is definitely more optimism, and I think one measure of it is actually our convention [which was scheduled for April, shortly after this interview was conducted]. We are seeing one of the largest attendances that we've had in many years. That's just one indication, obviously, but it's one that we use. But in general in talking to members, there definitely is a sense of optimism, as well as relief, because the cycle was so long and no one knows when the end is until it starts turning up.
What is the feeling among your members about China's "National Sword" policy in which the country is increasing inspections of imported containers?
Wiener: How that's going to play out, we don't know. One read of it is it's very similar to Green Fence. It's enforcement of existing regulations, which are pretty tough if you actually look at how the regs are written in China but normally not enforced.
But there definitely is a change in global structure of the industry, as well. And there's a shift in terms of where the end users are. I was looking at statistics earlier that indicated about 67 percent of plastics exported out of the U.S. go to China, but only two or three years ago it was well over 70 percent, close to 80 percent. It's been a continual decline, and that's going to continue.
And then you see India – I was just in India for a week – and it's fascinating to see the growth and the development of the industry there. While there's definitely going to be opportunities there in the future, I would imagine we'll see a similar turn as we do in China, that it's a priority within India to grow the domestic collection systems. I was personally surprised to see just how quickly China was able to develop their collection systems. I thought it would take a few more years. But I would imagine India is going to be faster than we think, as well. So it'll be a market for us, but for how long, we don't know. But Vietnam has certainly increased significantly over the last couple of years, as well as other markets.
Let's change gears a bit and talk about safety. How do you ensure the industry doesn't get complacent on that issue?
Wiener: We have had a safety program that predates my coming on to ISRI. But it had been a very traditional safety program for many years. We did videos and put out posters and things like that. But that only gets you so far. So about 12 years ago, we changed our approach, and now it's a much more proactive: going out to facilities and spending time at the facilities doing the training, and developing train-the-trainer programs to train people on equipment and to share best practices.
We now have a team of five people on staff in safety. Four of them are safety professionals that spend a lot of time on the road. They are literally going out and doing safety management plans at facilities. We have one person on staff, Commodor Hall, who actually comes out of the transportation industry, and his focus is doing driver ride-alongs. This all comes with ISRI membership. He'll ride with drivers at a facility to monitor their behavior and provide management tips on how to improve the safety. So we're paying a lot more attention to safety these days in a different way than we have before.
Do you think the industry as a whole is doing enough on the safety issue? We continue to see recycling and waste management listed as one of the more dangerous fields.
A year ago October, we joined with OSHA (Occupational Safety & Health Administration) for an alliance program so we can leverage resources we each have to get information out. Because as much as we've invested in the safety program, how much we've penetrated the industry, I can't tell you. But it's certainly not to the level that we want see. We haven't moved the needle – to use a cliche – as much as we would have liked to. The accident rates are still higher than we'd like to see. We needed to figure out a way to penetrate the industry more, and so we thought leveraging with OSHA we could do that as a mechanism for also getting the best practices out.
And what we also did [is] we went after OSHA grants in order to fund more training. We did win one of those grants. And we're using that Susan Harwood grant to go out and provide regional training. And the first of those regional trainings is a full-day class where we share those best management practices. And it's cross-commodity. One of the questions we often get is, "Does this apply to just plastics or just paper mills?" A conveyor is a conveyor. And a best practice for a conveyor applies regardless of the commodity that you're handling.
Are there other specific areas where you think bolstered training is needed?
Wiener: Confined spaces is an issue where they're at risk, and therefore we provide a lot of information. With regard to transportation, backing up is an issue. Loading and unloading is an area. Also slips and falls. Sometimes, it's the obvious that also can, unfortunately, result in a lot of risk.
We also have our Safety Stand Down Days, where once a year we focus on the highest risk and use that as an opportunity for raising awareness throughout the industry and getting information out on best practices.
How do you move the safety conversation forward from here?
Wiener: I've been personally frustrated that in trying to move the needle there's only so much as an association we can do. This is not a new issue, and this is an issue that all manufacturing industries face. And so, perhaps, someone else has the answer. So I have been looking for many years to form some sort of working group, a group where I can talk to other associations in heavy industries about what they're doing to help their members.
I asked through the National Association of Manufacturers (NAM) to put together a similar group, and NAM was able to help us facilitate. Along with my counterpart Heidi Brock over at The Aluminum Association, she and I initiated a dialogue within NAM to bring together associations with an interest in safety to share best practices and share methods of reaching our industry. I think there have been three meetings so far, and it's really interesting. Other groups have participated: The plastics industry has participated, the American Forest & Paper Association has participated, the mining industry, the Vinyl Institute. There's probably about 20 to 30 associations we've been able to get involved. Safety professionals from each of those associations sit around a table and share what's worked, what hasn't.
We've also been doing a benchmark program for about two years now – we're hoping that doing benchmarking will help promote safety and help us identify where the risks are so we can develop best management practices in areas where we don't have them. And the question is: How do we get more people involved in the benchmarking? Are we actually benchmarking the right data? Those are some of the conversations that are occurring.
Jared Paben is the associate editor of Resource Recycling and can be reached at [email protected].