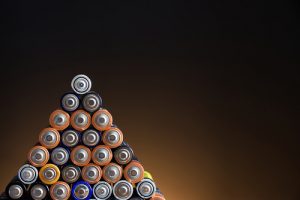 Call2Recycle has reported record volumes as it expands its focus beyond the realm of rechargeable batteries.
In 2016, the organization's single-use battery collection totals increased by 158 percent over 2015. The program collected more than 4.5 million pounds of single-use batteries in Canada, and nearly 1.5 million in the U.S. Together, those sums accounted for roughly 40 percent of the total 14 million pounds of all types of batteries collected in both countries.
"We expect this trend to continue as the number of battery-operated electronics, toys and power tools skyrockets," according to the battery stewardship group 2016 annual report. It also noted that "the continued rise of single-use battery recycling is rewriting the U.S. battery recycling landscape; we can no longer avoid its impact on our battery collections."
Last year, Call2Recycle began fulfilling manufacturers' obligations under Vermont's new extended producer responsibility law for single-use batteries.
U.S. battery manufacturers have not historically funded single-use battery collections because they're not considered hazardous waste like rechargeable batteries are. But Call2Recycle is working to transition several rechargeable battery collection centers into "all-battery" locations, funded by collection fees paid by consumers. It expects those sites will roll out this year.
"All-battery recycling at the local level has become a necessity, compelled by a society where sales of handheld electronics are exploding and the demand for convenient recycling is climbing," according to the report. "During 2016, we began altering our U.S. business model to accommodate an all-battery revenue stream that combines voluntary funding from industry stewards for rechargeable battery recycling and collection site fees for single-use batteries."
More stories about EPR/stewardship