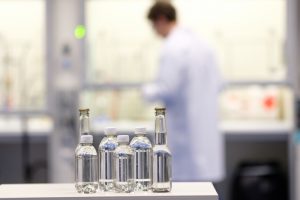 A bio-derived plastic that could replace PET in food and drink packaging has received interim recycling approval from an industry organization in Europe.
The European PET Bottle Platform (EPBP), a voluntary group of experts who evaluate the impacts of new technologies on PET recycling processes, gave interim approval for polyethylenefuranoate (PEF) to be recycled through existing PET bottle recovery systems.
PEF is a bio-based plastic that looks and feels like PET but has a different molecular structure. It has improved gas-barrier properties and a higher mechanical strength, so packaging producers could use less material to produce a food and drink package with a longer shelf life. Broader adoption of PEF could cause recycling industry anxiety over PET look-alike packaging entering the PET stream, degrading its quality. PEF also has the potential to cut into the market share for PET, a widely recovered plastic, although one expert said it's not likely to supplant PET anytime soon.
The polyester is made by Amsterdam-based Synvina, which is a joint venture between global chemicals company BASF and Dutch research and development company Avantium. The companies formed Synvina last fall.
Major food and drink brands have invested funds into advancing the PEF technology. Synvina already has a pilot plant and is planning to build a reference plant to produce furandicarboxylic acid (FDCA), the main building block for PEF.
In a press release, Patrick Schiffers, CEO of Synvina, described the interim approval as a major milestone.
"EPBP confirms that consumers are expected to be able to return or dispose PEF bottles the way they are used to do with PET bottles," Schiffers stated in the release. "The recyclability has become one of the most important aspects for the packaging industry to meet the standards of the circular economy. EPBP's interim approval confirms that with PEF we are able to offer solutions for our customers to meet these standards."
EPBP's approval to send PEF products through Europe's existing PET-bottle-recovery systems came with several conditions, including a maximum market penetration of 2 percent, or 50,000 metric tons of PEF through June 2020. That volume is consistent with the capacity of Synvina's planned reference plant.
Testing showed that recycled PEF had no impact on haze, coloring or other properties of recycled PET at up to 2 percent PEF content, according to the EPBP.
More stories about PET