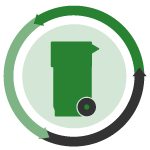 A beverage heavyweight pledges $6 million to the Closed Loop Fund, and a European effort leads to a plastic-free blister pack.
Fiber alternative: A new type of blister pack made without plastic has been developed by Swedish paperboard company Iggesund and Norwegian packaging company Moltzau. According to a press release, constructing the common packaging product out of paper rather than plastic will reduce its environmental impact, consumer rage and chances of injury when opening it.
Financing glass: A Georgia community has budgeted $30,000 more than it did last year to pay for drop-off glass recycling services, but the cost hikes will be covered by increases in related revenue. The Atlanta Journal-Constitution reports Cherokee's hauler stopped accepting glass for curbside recycling last year, prompting the city to begin the drop-off program.
Labeling effort: Eight global brands recently announced they would be joining the How2Recycle program, which provides a standardized on-package label to clearly communicate a product's recyclability. In a press release, the label program says it now counts among its members more than 60 brands making up $295 billion in North American sales revenue.
Systemic change: Officials in Long Beach, Calif. have joined environmental groups and labor organizations in calling for an exclusive franchise system for commercial recycling and waste collection, a step neighboring Los Angeles recently took. The Don't Waste Long Beach coalition writes the city has commercial diversion rate of less than 20 percent and claims a franchise system would boost the rate and create jobs.
Big name investor: Nestle Waters North America will invest $6 million in the Closed Loop Fund, becoming the latest brand owner giant to support the recycling infrastructure fund. In a statement, Nestle Waters North America highlighted the environmental impact of increased recycling, as well as the economic potential of recovering value from recyclable materials.
Students investigate: High school students in Kentucky took it upon themselves to conduct waste audits of local businesses, and they identified a plethora of recyclable materials heading to landfill. The State Journal of Frankfort, Ky. reports businesses in the city can optionally contract with private haulers at a cost, and the students aimed to show them that recycling could be more economical than landfilling.
Contaminant consternation: Pringles have been called out as a prime example of non-recyclable packaging. According to The Guardian, U.K. group The Recycling Association has taken Pringles and other manufacturers of multi-material packaging to task for producing hard-to-recycle products. Defending itself, the company praised its packaging for its food-preservative qualities.