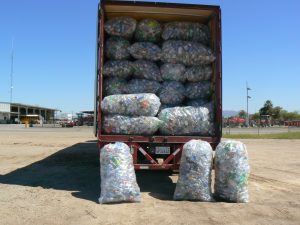 California officials say they intercepted two semi-trucks carrying used beverage containers from Arizona to California, where they were going to be illegally redeemed.
The California Department of Resources Recycling and Recovery (CalRecycle) says a sting operation resulted in the arrest of two truck drivers and recovery of nearly 15,000 pounds of containers. The mid-March stings stopped two trucks crossing at and near the Blythe, Calif. crossing, which is between the Phoenix and Los Angeles metropolitan areas.
Arizona does not have a bottle deposit program, and California officials periodically catch truck drivers carrying beverage containers into the Golden State so they can illegally redeem them, essentially stealing from the California Redemption Value program. The shipments intercepted in March had a potential refund value of nearly $20,000.
The California Department of Justice and California Department of Food and Agriculture also participated in the operation.