This story originally appeared in the March 2017 issue of Resource Recycling.
Subscribe today for access to all print content.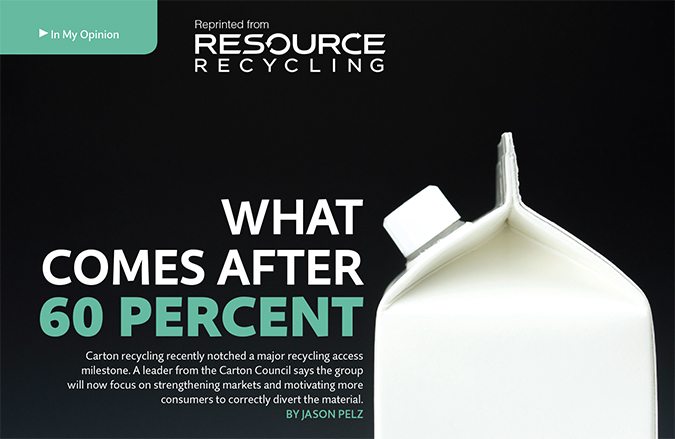 Many readers have likely heard that household access to food and beverage carton recycling hit 60 percent in January. This is a major moment in the recycling evolution of the material. According to the guidelines from the U.S. Federal Trade Commission, when a packaging type hits 60 percent recycling access nationwide, it can carry the standard recycling logo on-pack.
This achievement was the result of almost eight years of hard work and collaboration with stakeholders across the entire recycling value chain. The Carton Council – made up of carton manufacturers Elopak, Evergreen Packaging, SIG Combibloc and Tetra Pak, as well as associate member Nippon Dynawave Packaging – formed in 2009, with the goal of delivering long-term collaborative solutions to divert valuable food and beverage cartons from landfills.
Recognizing that access is the cornerstone of recycling, the Carton Council began by working to build a sustainable infrastructure for carton recycling in the U.S.
In 2009, only 18 percent of U.S. households could recycle cartons through their local programs. Now, carton recycling is available in 82 of the top 100 U.S. cities, 12,500 communities and more than 70 million households.
Time to motivate action
While we are proud of the collaborative business model for this achievement, it's important to note we aren't stopping. The Carton Council remains committed to increasing the recycling of cartons by ensuring strong end markets and sorting performance, deploying additional school recycling programs, engaging in legislative and policy dialogues, and ultimately educating and motivating consumers to recycle.
Achieving the 60 percent access milestone gives us the opportunity to communicate our recycling message to consumers nationally with a strong call to action. Previously, we worked with specific communities, launching market-focused education campaigns to help ensure residents knew cartons had been added to their community's recycling programs.
Now, the industry can work more broadly to leverage the recycling symbol on the side of carton packaging. For example, the Carton Council recently launched a national digital consumer education campaign to help motivate consumers to divert the material from landfills. The campaign uses engaging content deployed through paid advertising, influencer outreach and social media.
The campaign was designed to make it easy for other stakeholders to get involved and share the carton recycling message with their audiences. Get more details at recyclecartons.com.
Encouraging and supporting additional school recycling programs is a key opportunity for growth. While the vast majority of cartons on the market are consumed at home (approximately 75 percent), more than 6 billion milk and juice cartons are consumed at schools across the country each year.
Engaging schools in implementing carton recycling programs has multiple benefits. More cartons are recycled, of course. But the action also carries an opportunity to educate children, laying the groundwork for improved recycling at home and inspiring the next generation of materials diversion advocates.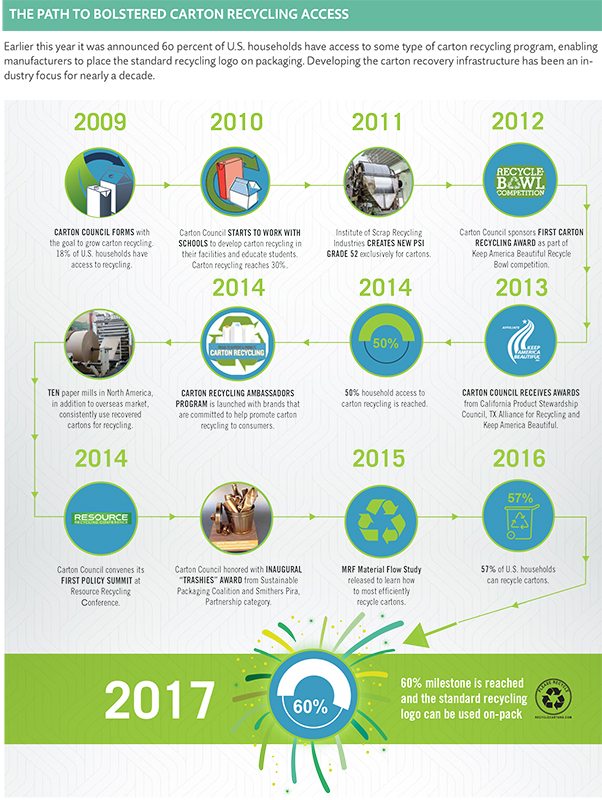 Currently, there are approximately 300 school districts with school carton recycling programs in the U.S. However, there are approximately 7,500 school districts located in communities with access to carton recycling. Clearly, opportunities for more school recycling programs exist.
The Carton Council has developed carton recycling guidelines based on best practices successfully adopted in multiple schools across the country. Through our "schools team," we provide technical assistance to help school personnel get a program started, offering promotional materials in addition to grants for recycling bins.
The starting point for a school recycling program varies. Sometimes it begins at the school district level; other times in individual schools. A program can start with an interested teacher, administrator or parent, and recycling programs have also been spearheaded by janitors and cafeteria workers.
One thing is consistent, however: Once implemented, a carton program makes the entire cafeteria cleanup process easier. It can also help schools save money via a reduction in trash pick-ups.
Further advancing infrastructure
Expanding carton recycling access is vital to our mission. In fact, with cartons now carrying the recycling logo, consumer expectations around carton recycling have been heightened.
However, we know that enabling diversion among consumers is not enough. We must also help ensure the effective and efficient sorting of cartons into their own grade, No. 52, which was established in 2011 by the Paper Stock Industries chapter of the Institute of Scrap Recycling Industries.
As such, we will continue to invest in research and audits that help us develop best practices as well as support the development of new technologies that advance quality and efficiency in sortation.
Already, the Carton Council has developed resources to provide technical counsel to materials recovery facilities (MRFs) and help them determine the most efficient way to source-separate cartons.
Innovation, of course, plays a big role on that processing front. In our efforts to understand and incorporate new technologies and models, a few years ago we started working with Titus MRF Services in California. The company serves as a "secondary MRF," capturing cartons and other materials that inadvertently end up as residue during the initial sorting process at another MRF.
This secondary MRF model strives to reduce residue while ensuring that fewer materials end up in landfills, and we hope the lessons learned in working with Titus can help the carton industry expand best practices to other regions. It's clear the facility operators are hearing from jurisdictions that want cartons included in community programs, and we are eager to ensure the material is captured in a cost-effective format.
"The Carton Council helped us meet a critical demand," said Amanda Pratt, director of corporate communications for Rumpke Waste & Recycling, which provides commercial and residential service in Kentucky, Indiana, Ohio and West Virginia. "They helped us expand the list of recyclables, ultimately diverting a significant waste stream away from landfills."
The Carton Council is also helping to ensure recovered material is used in meaningful ways after the separation stage. Traditionally, cartons have moved downstream to paper mills, where the fiber is extracted and used to make products such as paper towels, tissues, and printing and writing paper.
Mill representatives say they are taking steps to prepare for more carton recovery. "We expect carton recycling to increase so dramatically that we're actually working toward adding additional equipment to handle the increased supply," said Adam Kositzke, fiber purchasing manager at De Pere, Wis.-based Fox River Fiber.
Recently, some technology has emerged that enables cartons to be utilized in their entirety. The ReWall Company uses whole cartons to make environmentally friendly building materials such as roof cover board, exterior sheathing, moisture- and mold-resistant composite panels, ceiling tiles, floor underlayment, and wallboard and backer board. The products can be used to gain certification to LEED and the National Green Building Standard.
Tying into wider industry progress
The Carton Council remains committed to increasing access to carton recycling, as well as increasing recycling participation, working with all stakeholders across the carton recycling value chains.
We have always supported the concept that a rising tide lifts all boats – we believe working to improve recycling of all materials will help increase the recycling of cartons and vice versa. To connect with and support the wider materials recovery sector, we are members of The Recycling Partnership, and we sponsor Keep America Beautiful's "I Want to Be Recycled" national recycling awareness campaign.
We are also teaming up with the Southeast Recycling Development Council and other organizations to promote best-practice legislative models to help states, counties and municipalities make informed policy decisions to help their local recycling systems be more efficient and successful.
Working together, we can ensure that one day all cartons will have the opportunity to be moved into the recycling stream and then serve as valuable feedstock for a new round of products.
Jason Pelz is vice president of recycling projects for Carton Council of North America and vice president, environment, for Tetra Pak Cluster Americas. He can be reached at [email protected]. For more information about the Carton Council, visit cartonopportunities.org.