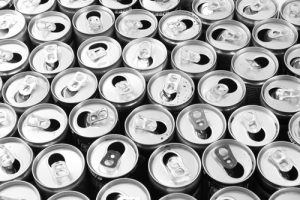 One of the world's largest used beverage can recycling facilities has gotten even larger and is now capable of recovering 20 percent of all aluminum cans sold in the U.S.
Aluminum company Constellium announced the installation of the additional recycling furnace at its Muscle Shoals, Ala. recycling and production facility. The furnace was installed in what the company's calls "Element 13," the name of the recycling facility at the sprawling complex in northwestern Alabama.
Amsterdam-headquartered Constellium describes Element 13 as "one of the world's largest recyclers of used beverage containers." It feeds nearly half of the input to the Muscle Shoals Cast House. The Muscle Shoals facility mainly produces sheet for new beverage containers, including the three grades used for cans: body stock, coated end stock and tab stock.
The added furnace is now fully operational and is expected to increase recycled output by about 170 million pounds per year, the equivalent of about 5.2 billion UBCs. It brings the total recycled output up to about 654 million pounds, a 35 percent increase.
"This new furnace is a major step for our Muscle Shoals facility, great news for our customers and an exciting step forward in our commitment to promote recycling and sustainability," Mike Tanchuk, president and CEO of the plant, stated in a press release. "This increased recycling capacity will enable us to better leverage aluminium's infinite recyclable properties."