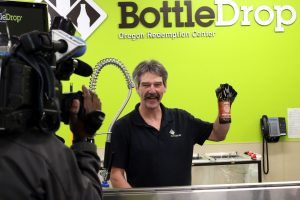 Oregon's bottle deposit program has begun accepting used glass bottles for refilling.
Portland-area bottle redemption centers operated by the Oregon Beverage Recycling Cooperative (OBRC) now accept bottles from Double Mountain Brewery, and OBRC hopes to attract more breweries to use refillable bottles. The containers are washed before they're returned to the brewery for refilling.
The pilot program was first announced in February.
At a kickoff event last week, John Andersen, OBRC president, described the refillable program as the "next evolution in product stewardship." But he added that it's also a return to the past, as refilling bottles was once the norm. It fell out of practice as retail stores grew into large commercial operations that preferred not to sort, store and transport intact bottles to a processing location.
OBRC's model as a centralized and vertically integrated organization makes it feasible, according to Jules Bailey, chief stewardship officer for OBRC. Double Mountain has run its own refilling program for years, allowing customers to return the brewery's bottles at its taprooms and at retail locations carrying its beer. The brewery anticipates a substantial increase in returns with the addition of the OBRC centers as return locations. As with single-use bottles, refillables have a 5-cent deposit.
Ultimately, OBRC plans to build a dedicated refillable bottle processing facility to handle a higher volume of bottles and to solicit more breweries to switch to the refillable model. Bottle return depots will also receive equipment upgrades, allowing refillable bottles to be returned through reverse vending machines. For now, those machines will reject Double Mountain bottles and instruct the customer to return them at a customer service station.
Bailey told Resource Recycling the refillable bottle project will ultimately carry a multi-million-dollar price tag, but that it will come at no extra cost to the consumer. OBRC, which is funded by beverage distributors, scrap sales and unredeemed deposits, will finance the investment.
"We think that we'll make that back pretty quickly, because it costs so much to buy virgin glass, it's so (much) cheaper to wash them, we can sort of amortize that capital cost over the average cost to the brewer and still get it back to them even cheaper," Bailey said.
Oregon's 5-cent bottle deposit is slated to double to 10 cents this weekend.
The slideshow below offers a collection of photos from the launch event. Hover over a photo to bring up arrows that allow you to advance through the sequence, or click the photo to see the whole album.