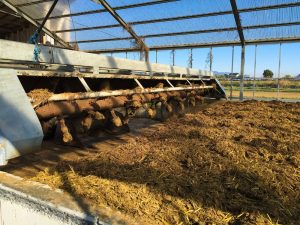 Materials recovery facilities have long been vocal about the impacts they're seeing from a shifting waste stream. A new group is now aiming to elevate the voice of compost operations in that conversation.
Launched in January, the Compost Manufacturing Alliance was founded by six companies with a combined annual organics processing capacity of 750,000 tons.
A leader of the effort recently noted that the group was sparked in part to help composters better communicate with municipalities and product manufacturers about ongoing contamination concerns. Too often, she noted, compost is just seen as another disposal option.
"Composters are manufacturers," said Susan Thoman, principal and managing director for the Compost Manufacturing Alliance. "We make a product we need to sell. … We need everyone's help to ensure what we get can be turned into a viable product."
Thoman was speaking as part of a webinar last week organized by PAC Next, part of the packaging group PAC. The discussion was centered on the rising volumes of packaging designed to be compostable in commercial facilities.
Thoman made it clear that the onslaught of packaging products marketed as eco-friendly in recent years has led to significant tonnages of non-compostable items ending up at compost facilities.
"Lots of product names have 'earth' or 'plant starch' in them and people think, 'I must be able to compost it,'" Thoman said. "We've looked to the packaging industry to help ensure terminology is not confusing."
The companies behind the Compost Manufacturing Alliance are A-1 Organics (Eaton, Colo.); Cedar Grove (Seattle); New Earth (San Antonio); Olympic Organics (Kingston, Wash.); St. Louis Composting (Valley Park, Mo.); and WeCare Organics (Jordan, N.Y.).
To help the packaging industry sell materials can be effectively handled by commercial compost facilities, the group has established the Compostable Feedstocks Testing Institute. That effort will test packaging in actual commercial composting environments, extending a program that was started over a decade ago by Cedar Grove.
The Compost Manufacturing Alliance website also shows a "composter approved" label for products that meet the group's threshold for compostability.
The group's ultimate aim, Thoman noted, is to work with a wider range of stakeholders, including waste management companies and resin manufacturers, to move compostable packaging forward.
"This is our system to succeed together," she said. "We need to get the screwdriver out and fix the parts that are falling loose."