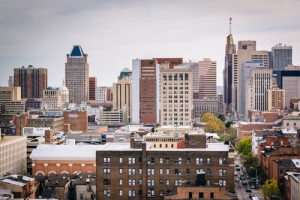 Baltimore's public works department failed to hit materials recovery targets for two straight years, a city audit recently found, but the department says the measurement metrics should be revised.
The city's Board of Estimates set recycling goals for fiscal years 2014 and 2015 at 32,000 tons and 34,000 tons collected, respectively. An audit of those two years found that neither goal was met. The audit results were released at the end of 2016.
Baltimore, population 622,000, provides single-stream recycling to all of its residential, commercial and public facilities customers.
Both years, the city collected 82 percent of its target tonnage goal: 26,083 tons the first year and 27,941 tons the second.
And these figures might not tell the whole story. In addition to not meeting the targets, the collection figures are "overstated," according to the audit. The target number is just for what the Board of Estimates termed "household recycling," but the reported collection figures include all collected recycling — residential, commercial and public facilities.
The city's Department of Public Works took issue with this view and responded that "if anything, the tonnage was understated," and that the audit's finding is "the result of a misnomer." Materials from residential, commercial and public facilities are all collected together, making it impossible to measure "household recycling" alone, according to the department. Public Works recommended the target be revised to consider all single-stream recycling.
Still, the department acknowledged it did not meet the targets and attributed it mostly to a lack of public awareness. Although it advertises its recycling program through mailers, events, sales of recycling bins and press releases, the department said "these efforts have not provided the impetus to push residents to recycle and to recycle more."
Public works suggested it would conduct more outreach through social media and other newer methods, including mobile technology. The department also suggested the city make more recycling bins available, noting that "when residents are provided with recycling bins, they recycle." The city charges residents a small amount for recycling bins, although residents don't need an official recycling bin to use the recycling program.
The audit recommended revisiting the goals to decide whether they're realistic and whether they require updating. It also suggested the department make sure the current current collection data is accurate.