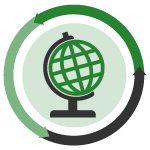 A London initiative will target the collection of single-use coffee cups for recycling, and carpet diversion continues its rise throughout the United Kingdom.
'Brexit' and EU law: Despite its planned exit from the European Union, the British government expects waste legislation under consideration by the European Parliament would still apply to the U.K., reports Resource Media. The legislative package includes an action plan and proposals aimed at meeting diversion rate targets. A committee in the European Parliament last week approved a 70 percent diversion target for 2030, higher than previously proposed by the European Commission.
Rug rates rise: Carpet diversion in the U.K. reached 35 percent in 2016, according to a Carpet Recycling U.K. press release. More than 156,500 short tons of carpet was diverted from landfill, representing 15 percent growth over the previous year.
Cup collection: The Guardian reports that an effort to reduce the huge number of disposable coffee cups that end up in landfills has been launched in the City of London, the high-density financial center that is its own square-mile city and county within London. Dedicated coffee cup collection receptacles will be installed in businesses and along the street, with the goal of diverting an estimated 5 million coffee cups per year.
Mattress mess: The operator of a mattress and bed recycling company has been convicted for failing to comply with environmental regulations and an enforcement notice, according to the U.K. Environment Agency. Lewis Bertram of Eco Matters, which sits on a site authorities described at "mattress mountain," will be sentenced on Feb. 3.