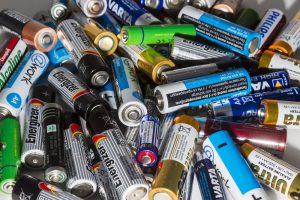 Last year closed with record-setting numbers for battery collection and recycling in North America, according to stewardship group Call2Recycle.
The latest figures, released by the organization last week, indicate the continuance of a trend: Each of the past 20 years have surpassed the preceding year in collections of rechargeable and single-use batteries. Last year marked a 12 percent increase over 2015 collections, which set the previous record of 12.6 million pounds of batteries recycled.
Collections in the U.S. jumped from 7.1 million pounds up to 8 million pounds, an 11 percent increase. Canadian collections rose 12 percent over the previous year, increasing from 5.5 million in 2015 to more than 6.1 million in 2016.
Carl Smith, Call2Recycle CEO and president, attributed the new record to the organization "offering a convenient, comprehensive and flexible recycling solution" for the materials it collects. There are now nearly 30,000 battery-collection locations in North America, and Call2Recycle estimated that 88 percent of U.S. and Canada residents live within 10 miles of a battery drop-off location.
The non-profit organization collects both single-use and rechargeable batteries, and 2016 was notable for a substantial rise in single-use collection figures. Legislation enacted last year in Vermont helped fuel that increase: The state became the first U.S. state to implement extended producer responsibility requirements for the collection and recycling of single-use batteries.
That spurred a 187 percent jump in Vermont battery collections and contributed to a 158 percent increase in single-use collections nationwide.
Over the course of its 21-year history, Call2Recycle has diverted 129 million pounds of batteries from disposal, the organization reported.