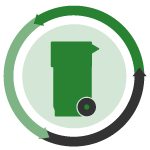 The U.S. officially withdraws from the Trans-Pacific Partnership, and an Oklahoma community struggles with high rates of contamination in curbside carts.
Intelligent design: The Ellen MacArthur Foundation released a design guide that aims to draw awareness to the circular economy. In a press release, the foundation noted that the shift to a circular economy is "complex and cannot be achieved with traditional design methods alone."
Fears of Big Brother in the bin: Some civil liberties advocates are concerned that tracking chips installed in St. Paul, Minn. recycling carts could be utilized for government surveillance, according to Minnesota Public Radio. St. Paul officials say the radio-frequency identification (RFID) chips will simply help the city keep track of recycling carts.
Hospital meets its goals: A hospital in Farmington, N.M. is diverting more than 200 tons each year since establishing an in-house waste-reduction initiative, the Farmington Daily Times reported. The program, which was recently praised by the state's governor, set a goal of reducing its waste disposal by 30 percent and has met that benchmark each year since 2007.
Fined by the feds: Bandit Industries, Inc. will pay a $3 million penalty for selling equipment that failed to meet Clean Air Act emissions standards, the U.S. EPA announced last week. The company builds and sells diesel-fueled engines and equipment used in wood processing, and the EPA alleged the company did not transition to current environmental standards when it was required to.
Fiber-recycling technology: MDF Recovery has completed commercial viability trials for technology that will recover wood fiber from medium-density fiberboard (MDF), according to Materials Recycling World. The company says the recovered material is of the same quality as virgin fiber, and it estimates that nearly three million tons of MDF could be recovered annually with the technology.
Compromise on cardboard: Leaders in Lincoln, Neb. came to a compromise and passed a recycling ordinance that creates an OCC landfill ban, according to 1011Now. The compromise removes landfill bans on other materials, including newspaper and other paper products, but will aim to divert the 19,000 tons of OCC the city throws away each year. Citizens have gathered thousands of signatures to place a law banning OCC from disposal on the ballot.
Herds of 'hopeful recyclers': An audit found that nearly 33 percent of the material in Tulsa, Okla. recycling carts is contaminated by non-recyclable materials, Tulsa World reported. Auditors found that the large percentage was largely due to common objects that residents believe are recyclable but are actually not accepted, rather than what was termed "blatantly bad recycling."
Milestone marked: Better World Books has reused or recycled 250 million books since it was founded 15 years ago, the company announced Monday. It collects books through a variety of sources, and books that can't be sold are donated or recycled.
Trump scraps TPP: President Trump withdrew the U.S. from the Trans-Pacific Partnership on Monday, the New York Times reported. The agreement aimed to bring the U.S. and 11 other Pacific Rim countries together in a pact that would lower tariffs and create a free-trade zone for about 40 percent of the world's economy, according to the Times. Some industry experts saw the TPP as beneficial for the recycling world, particularly as it would reduce barriers to moving material to Asia.