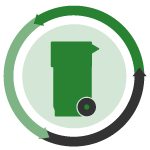 A couple of cities consider adding curbside service, and two other municipalities wrestle with the difficulties of providing recycling service to apartment buildings.
Scan do: A French tech company has created a device that scans barcodes on packaging and then lets a consumer know whether a particular product is recyclable or not. The technology, called Eugene, is made to be mounted above a trash can or recycling receptacle.
Kicking off curbside collection?: A Tulsa, Okla.-area city is exploring launching a curbside collection program. In Broken Arrow, Okla., a City Council member noted the cost savings the City could realize by diverting more material away from landfill and a nearby waste-to-energy plant, according to local ABC affiliate KTUL.
Moving toward mandatory service: Yakima, Wash. is still only exploring mandatory curbside recycling service, but garbage service fees have already increased to begin raising money for a future recycling program. The Yakima Herald reports city officials are interested in curbside service, potentially modeled after a 2014 pilot program serving 600 households, but surveying shows residents aren't willing to pay a whole lot more each month to support a program.
Multi-family recycling: City leaders in Columbia, Mo. are exploring ways to make recycling at multi-family complexes more convenient. The Columbia Daily Tribune reports 42 apartment complexes participate in the city's free apartment recycling program, which requires them to share 14 collection carts on rotating schedules.
Room to recycle: Speaking of multi-family recycling, a new Denver resident asks property managers and Alpine Waste and Recycling why more apartment complexes don't have recycling service. Space constraints were often cited, along with a desire by third-party property management companies to keep costs low for property owners so they can retain their management contracts, according to denverite.com.