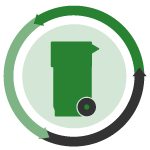 The Windy City's recycling rate sees another drop, and some residents are unhappy with the way Charlotte, N.C. wants OCC placed in the cart.
Recycling rate drop: Chicago's recycling rate dropped to 9 percent in 2016, down from 10 percent the year before, according to WBEZ 91.5 Chicago. Even residents who are adamant about recycling say they aren't sure what does and doesn't go in their single-stream carts. Recently, two reporters from DNAinfo went into a Chicago-area MRF to see for themselves just how badly plastic bags are messing up the recycling process.
Junkyard Planet, part 2: Adam Minter, the author of "Junkyard Planet," plans to release a new book, according to Recycling International. The new book, titled "Second Hand," will focus on the repair and reuse of products, including electronics.
Charlotte changes cardboard custom: The City of Charlotte, N.C.has made changes to the way it collects cardboard curbside, but residents aren't happy about it. The City wants cardboard to be flat and torn up in pieces smaller than 18 inches by 18 inches. According to the Charlotte Observer, this will make collection easier, but residents say they weren't notified of the changes.
Down on the farm: Minnesota farmers now have access to agricultural film plastic recycling. Revolution Plastics operates the program and has handed out collection containers to more than 130 farmers already.
Mattress recycling: California's mattress recycling program has been in place for more than a year, but many retailers still aren't complying, reports The Foothills Sun-Gazette. In fact, many retailers are calling the local Better Business Bureau to investigate the program.