This story originally appeared in the September 2016 issue of Resource Recycling.
Subscribe today for access to all print content.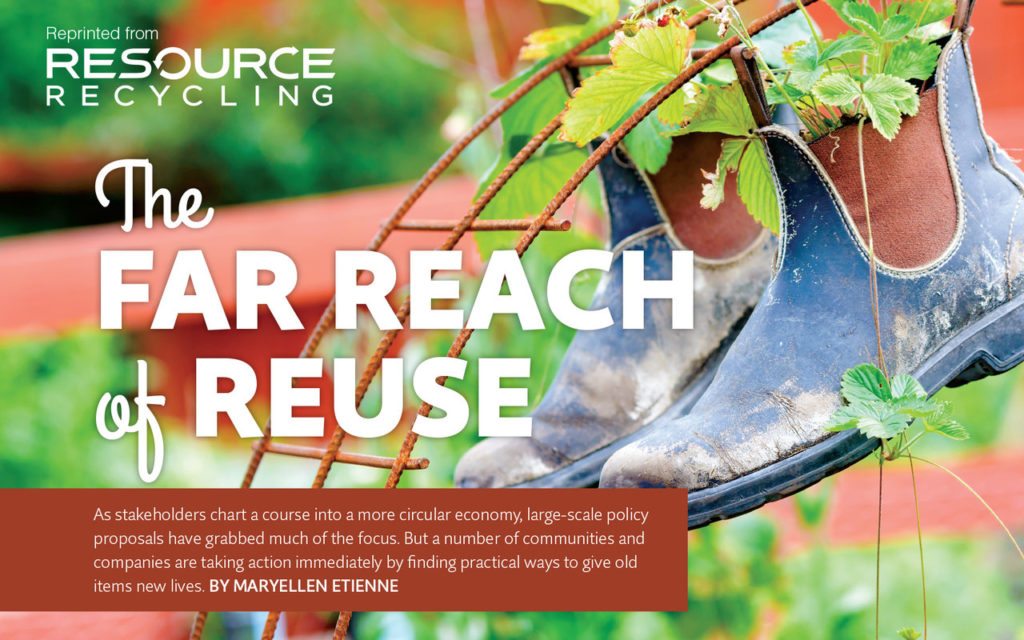 Reuse is a simple word, but it can represent a multi-pronged approach to materials management. And it can bring a wide range of benefits to society.
Just look at the Habitat ReStore of Cape Cod, which opened its doors four years ago in South Yarmouth, Mass. This classic case of materials reuse – the nonprofit retailer takes in and resells household goods, books and building materials – shows the enormous impacts the process can provide.
Since opening, the operation has seen $2.5 million in sales, kept a vast quantity of material out of landfills and can barely keep up with demand for services.
The training programs developed by the store, which is run by the regional chapter of Habitat for Humanity, lead to meaningful living-wage jobs with career advancement opportunities for area residents and also bring funding to support Habitat's housing mission.
The Cape Cod ReStore and other reuse establishments are showing that the economic and environmental benefits being discussed in current conversations about a larger circular economy are more than just conceptual. In many corners of our communities, the circular approach is already being successfully implemented, and reuse is a big part of the reason why.
Across the U.S. and the globe, reuse is addressing overconsumption, resource inequality, underemployment and much more. It's a "win-win-win" solution.
Enormous array of strategies
It's common knowledge that reuse involves extending the life of a product or resource by using it more than once with little to no processing.
What may be less known is that the reuse concept also covers an enormous array of strategies and activities that can help society significantly move forward on how we treat materials at end-of-life.
The breadth of related activities includes such areas as adaptive reuse (transforming an old mill building to modern offices, for example), byproduct synergy (such as turning old fire hoses into boat-dock fenders), collaborative consumption (also known as the sharing economy), creative reuse, deconstruction, food rescue, freeganism, gifting, online materials exchange, product rental, refurbishing, remanufacturing, repair, salvage, second-hand stores and water reuse.
Reuse infrastructure must also connect the dots between a wide range of variables and participants – who is releasing materials, who is accepting the materials, what is the reuse strategy and so on.
In addition, no discussion on reuse is complete without mention of its triple bottom line impacts. By diverting resources away from the waste stream, reuse saves the embodied energy of manufactured goods, reduces greenhouse gas emissions, conserves resources, and can reduce solid waste by displacing single-use materials.
Reuse is also a socially responsible economic engine. It provides low-cost, green procurement options, and it offers donors tax benefits, generates sales tax for the local economy, allows entrepreneurs to generate revenue, and creates meaningful, living-wage employment.
These benefits are not just anecdotal; they have been researched and confirmed. An economic impact study conducted by the Minnesota Pollution Control Agency in 2011 found that the reuse industry in the state directly was employing over 46,000 people and generating at least $4 billion in gross sales annually. An important side note is that these companies were mostly locally owned and operated and further increased the retention of capital in the region.
Redesigning our economy
By now, most professionals in the waste management sector have at least a general knowledge of the idea of a circular economy.
The term generally refers to an industrial economy that produces no waste or pollution – by design. The flows of material include biological components (organic materials), which are designed to re-enter the natural ecosystem safely, and technical components (metals, plastics and other man-made materials), which are designed to continually circulate in the production system without re-entering the natural world.
The circular economy idea also keeps financial components in mind. Infrastructure, for example, is a priority, and the circular concept dictates that there must be investments in infrastructure to handle the flow of reuse and recycling. In addition, full cost accounting is embraced. There must be transparency in pricing and external costs. It's clear that this type of approach values economic sustainability just as much as environmental sustainability.
To date, much of the discussion around the circular economy has been on theoretical or policy levels. For instance, late last year the European Union released its formal Circular Economy Package, which laid out 28 separate action items that aim to help EU member states "close the loop" on waste over the next several years. It also sets out operating standards for different segments of the industry as well as a variety of goals and data measurement proposals.
Such broad guidance clearly plays an important role, but once such packages are approved and language is finalized, the work of moving from idea to implementation remains.
In order to move away from our current "make-take-toss" economy that feeds on finite resources to create products that end up in the waste stream, we must embrace a cyclical system that encompasses waste-free systems, resilient design, a shift away from fossil fuels and comprehensive approaches that recognize true costs and engages in holistic analysis.
The reuse sector is already aligned with that kind of shift.
Businesses taking action now
One company that exemplifies the intersection between reuse and the circular economy is Relan, a woman-owned business based in Mendota Heights, Minn. It partners with large companies to close the loop on an often overlooked waste stream: non-recyclable vinyl billboards and banners.
Relan helps companies reach their sustainability goals, participate in the circular economy, and tell their sustainability story by repurposing used signage into products like luggage tags and messenger bags that the client companies can then put in the hands of their own customers. Everything Relan creates is cleaned, designed, cut, and sewn in the U.S. using minimal water and eco-friendly cleaning products.
Another notable example in the reuse startup space is Project Repat. The company helps people memorialize their favorite old T-shirts by upcycling them into custom quilts. The "repat" in the name is a nod toward the goal of repatriating textile jobs back to the U.S. – Project Repat partners with unique socially minded textiles companies in Fall River, Mass. and Valdese, N.C.
Most businesses prefer not to trash valuable resources they no longer need, but may not have internal capacity to look for alternatives. Repurposed Materials helps commercial, industrial, government and nonprofits explore these opportunities and create resource efficiency loops. Examples of efforts facilitated by the Denver-based company include a retired street sweeper brush that was given a second life as a cattle backscratcher, decommissioned fire hoses that became boat dock fenders, and obsolete ski lift cables that become hand railings for luxury condominiums. Some exchanges are one-offs, but others routinely divert a consistent materials stream, allowing partnership to grow.
Finally, to understand how municipalities are partnering with social enterprises to "invest in reuse," let's take a trip across the pond. Recently, an investment of nearly $550,000 was made by FCC Environment, a resource management firm in the U.K. to open a reuse center. In partnership with local government, the center diverts reusable items away from recycling centers currently operated by FCC and ensures a wide range of useful goods, such as bicycles and building materials, are kept in use by the community.
Engaging the evolution
Now that you're well versed in reuse and its ability to help the circular economy expand, it's time to dig deeper and engage in the growing reuse movement. One great way to do this is by participating in "ReuseConex", a biennial conference taking place this year in Boston. [Editor's note: the author is the producer of that conference.]
This year's event will bring together a range of stakeholders to highlight the ability of reuse to reframe the conversation on sustainability, materials management and the circular economy. It truly is a one-of-a-kind opportunity to connect with the others interested in harnessing the transformative powers of reuse.
As this article has helped explain, reuse has the ability to reframe how we engage in sustainable materials management, and the circular economy has the ability to reframe how we produce and consume goods. When these forces come together it can be a game-changer on the economic and environmental levels.
MaryEllen Etienne has been working in the field of sustainable materials management for over 20 years, with an expertise in reuse. She is the creator and executive producer of ReuseConex and is the author of "The Reuse Primer." She can be contacted at [email protected].