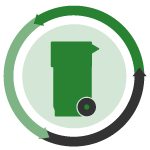 The Virgin Islands get serious about recycling, and Waste Management gets support for its stance on materials diversion.
Lawmaker action: Legislation regarding a bottle deposit, a plastic bag ban and the implementation of a comprehensive recycling and composting system in the Virgin Islands has moved forward in the U.S. territory. The bills were written in response to fines by the EPA, reports the St. Croix Source.
Landfill over recycle: An article in Forbes highlights the case made by Waste Management to eliminate some recycling programs and focus on materials with high value. The article cites glass as one commodity that could be given lower priority among materials management decision-makers.
Research grants: The Closed Loop Foundation has awarded two companies grants to help increase film plastic packaging recycling. The awardees are Zzyzx, a Pennsylvania-based company that makes plastic pellets, and Drought Diet Products, which uses film plastic in irrigation pipes.